Foodies Fight Back with Lucinda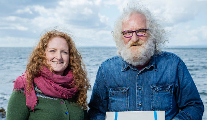 Wednesday 30 September 2020
The Baker
It's not often you find a hotel with its own bakery also retailing to the public. I stumbled on it originally when I did a detour off the M8 to the Horse & Jockey Hotel, a fantastic spot close to Thurles. It was here I met Jacqueline Lanigan Ryan, a brilliant baker and patissiere - she makes the best gluten- free chocolate cake ever.
"Pre-Covid life was always pretty hectic for the pastry kitchen with two coffee bars, two dining rooms, a bar, a bakery shop, meeting rooms, and afternoon teas, all requiring a large selection of cakes, pastries, desserts, breads and biscuits. This all came to a sudden stop, leaving us with a lot of stock on our hands."
The hotel remained open for accommodation for essential workers, and gradually the pastry kitchen started back on a part-time basis.
"We were busy filling the demand as people were treating themselves and giving foodie gifts to friends and family. Afternoon teas are busier than ever and are also available for takeaway."
Jacqueline says that lockdown brought out the inner baker in lots of people. "Sourdough bread is top of the list."
Jacqueline has now added sourdough to her range. She has also had enquiries about sourdough classes, but it's not something she can currently offer. However, she can offer a sourdough starter.
"I'm very lucky to be working with the same girls for a long time - Irina, Yvonne and Aileen - who take their roles very seriously. Our customers are both local and travelling, but, most importantly, they're repeat customers and their support is very much appreciated."
horseandjockeyhotel.com
The Producer
Marine biologist Gerry O'Halloran and daughter Ciara O'Halloran are the team behind Flaggy Shore Oysters in New Quay, Co Clare. They started working together seven years ago, but their focus in recent years has been away from export and more on supplying restaurants and diversifying into 'Shuck Off Oyster Experiences', teaching people about local marine life, how oysters are farmed, and how to shuck them while enjoying a glass of wine. This area of business had grown considerably.
"Many bookings came through platforms such as Airbnb or Viator and were North American and mainland Europeans," says Ciara. However, all of this business was cancelled in March as well as restaurant orders.
"Shellfish in general took quite a hit as the majority of the product goes to food service. We put all our stock back out on the shore in the hope they may survive the long haul out there. Baskets of shellfish were given to friends and we bartered for coffee with our local coffee roaster. We were closed for four-and-a-half months. Some restaurants have come back, local ones have been busy as half of Ireland visited the West Coast! But a lot of the Dublin restaurants we supply have been very quiet, and we feel for them. We are about to launch a new website that will make it easier for people to buy from us and book experiences direct. And we have started with some local food retailers and some in Dublin."
redbankfoodco.com
The Restaurant
One of Dingle's best-known restaurants, The Chart House, owned by Jim McCarthy and his wife Carmel, is celebrating 20 years in business this year.
"Lockdown gifted me time to clear a patch of garden to erect a polytunnel. It's been a learning process with a few hiccups but we took its first delivery of fresh salad leaves and tomatoes last week. It won't make me rich, but it makes our much-loved salad all the more enriched. I won't tell you a lie, it's been an arduous couple of months since opening on July 3. It's no different for any small family run restaurant doing their level best in these unusual times. But I have much to be thankful for. It's my team at the Chart House that keep me sane. They never ever let me down. They work so hard and never complain."
lucindaosullivan.com
First Published In The Sunday Independent