Foodies Fight Back with Lucinda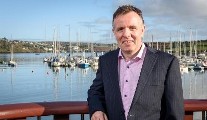 Wednesday 23 September 2020
THE BAKERS
Just last year, Grainne and Darren Collins started their artisan Beatha Bakery in Waterford, specialising in sourdough and hand-laminated pastries.
"Darren is a chef, and I worked in the financial sector until we had our twins, Blathnaid and Oisin, back in 2011. Our journey started with our little boy telling Darren that he missed him while he was out working very long hours, so we knew change had to come," Grainne says.
"As a former head chef, one of the first lessons he taught junior chefs was making bread, and there is where we began. We sourced an oven from a retired baker in Co Clare, and with help from family and friends, and much advice and guidance from our local enterprise board, we built a fully functioning bakery in our back garden."
Their business strategy was two-fold: 50/50 wholesale and retail, supplying local cafes and restaurants, and hitting the weekly farmer's market in John Roberts Square in Waterford City.
"We'd really only established ourselves when Covid hit. Overnight we lost 50pc of our business, with the markets looking like they would go next. We decided on a drive-through contactless bakery, posting our menu online and taking payments electronically. We've been doing this twice a week since March and we've been very lucky that the people of Waterford have supported our little bakery, and our wholesale side of the business is coming back, too. We're really excited about the future for us. If we could survive the last 12 months, I think we'll be OK."
Twitter - @mrsbeathabakery
THE GASTROPUB
Opened 49 years ago, Jim Edwards is one of Kinsale's best- known gastropubs, now run by Liam Edwards, a former president of the Restaurants Association of Ireland.
"When we reopened on June 29, we were nervous facing a summer in a tourist hot spot with no international visitors. However, the last nine weeks of trade has been a massive success. We'd lost 40pc of our inside tables, but, largely due to the local council and Kinsale Comeback Campaign, our street was pedestrianised to allow tables for outdoor dining.
"Since the kids have gone back to school there's been a huge drop, but we've been mentally prepared for it and I hope the weekends will see us through the bleak winter months. We saw the success of takeaways during the lockdown and now we've launched a click-and-collect service."
While government support has been good, Liam feels that it missed a trick with the last two initiatives.
"The Stay & Spend scheme doesn't do enough to encourage people to come out. Also, eliminating non-taxpayers is an oversight as it's now the older generation who want to travel. The wage subsidy has been great, but the change in requirement that I should be down 30pc from July to December to claim seems to forget that we closed for nearly four months.
"Even during good times, months like November are like a ghost town in Kinsale, and for me to be down 30pc, I would have to close a few days a week. Is this really the message we want in our industry?"
jimedwardskinsale.com

THE RESTAURANT
Dermot Fetton, of Henry's Bistro & Wine Bar in Ennis, is a hugely experienced restaurateur with a background in the top end of the hotel industry.
"When lockdown was announced, my first concern was for my team - most of which are with me since my last restaurant, The Cloister - looking into the supports available and how everyone, could avail of them.
Before I left the house to meet the team, I listened to a radio interview with a Cork restaurateur; it was an emotive piece. I was in the kitchen with my wife, Noreen, and my 10-year old, Sam. I had to get out of the house as I could feel the swell and didn't want to let it affect my family."
lucindaosullivan.com
First Published In The Sunday Independent