Foodies Fight Back with Lucinda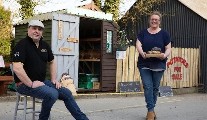 Wednesday 09 September 2020
The Producer
Speaking to Maria Flynn, of Ballymakenny Farm, Co Louth, which specialises in Irish heritage and speciality potatoes, she told me how their business has changed and adapted to cope with the 'new normal'.
"I'd be lying if I said it took a pandemic to force us into pivoting our business," Maria said. "Emerging from a commercial farm operation, we loosed our love of farming into a much smaller enterprise, growing for the hospitality trade and chefs who took us to their hearts and kitchens. Five years into that particular pivot, and just beginning to relax into our new way of growing, Covid-19 arrived."
Facing the same problems as many businesses, Maria knew they'd need to pivot again to survive.
"The lockdown announcement was made on a Thursday and by the Monday #bfspudshack was born and we were ready for 'drive-thru' customers. It very quickly developed into a positive, happy place, with customers bringing much more than their custom. Our chefs stepped in and supported us by taking part in our #ChefAtTheShack days.They come and cook and have the chats with our customers, adding another layer of fun and connectivity."
"Photos of SpudShack on Twitter led to a flurry of messages from across the country, and a website was developed in three days flat - by a friend with two young children and a new baby (thank you Pri) - for nationwide delivery."
"Twitter and our followers played a huge part in our online sales. We never felt alone and always feel we are being pushed on by a surge of goodwill and genuine 'we've-got-your-back' vibes. We might have been knocked down, but we are far from out."
The next product in the pipeline is their Purple Potato Salad for retail. Check out their website for more details.
ballymakennyfarm.com
The Cafe
For almost two decades, Richard and Mairead Jacob have been kept busy by their iconic Idaho Cafe in Cork, serving simple, well-cooked food using local ingredients. Twice voted Best Cafe in Ireland, they say they're "just happy to make people happy".
Back in July, Richard and Mairead published an open letter online to Finance Minister Paschal Donohoe and the Government, highlighting a lack of support for small business owners in these unprecedented times.
"Mairead and I are 'directors', we still make the coffee and cook the food, but because we own our business the Government are saying that they will not subsidise our wages. We now face autumn, with the prospect of losing money every day that we open," the letter stated. The Government has since made a U-turn on this issue.
Richard told me how they'd been coping at Idaho. "We closed at the beginning of March, before the Government asked us to, as we wanted to keep our customers and team safe. We started building raised beds for veggies and herbs and we'd already planted a one-acre orchard, a herb garden and a cage for soft fruits, so by the time we reopened in July, we could've stocked a small shop."
"We started a conversation with Cork City Council in March and subsequently worked with the six other businesses on pedestrianising Caroline Street to create a calm, traffic-free eating environment. We also commissioned a local artist to paint an Insta-friendly mural covering for our building.
"We reopened the self-styled Idaho Nua on July 7. The same great team working the same room, but now serving just 12 diners inside, with a terrace of eight additional tables. Instead of changing direction during the crisis, we've focused on doing what we always did - just a bit better, for a slightly smaller audience."
idaho.ie
The Gastropub
For the past 25 years, chef Georgina O'Sullivan and her husband Barry have owned and run the superb Ballymore Inn, a gastropub in Ballymore Eustace, Co Kildare.
lucindaosullivan.com
First Published In The Sunday Independent