Our Latest Great Place To Eat - Oak Room Restaurant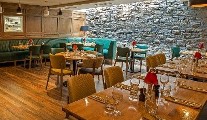 Thursday 03 September 2020
Bright, airy and modern throughout, the atmosphere at the Oak Room is relaxed and welcoming, with plenty of space to breathe. The room itself has a clean open look, with stylish touches by way of the variety of light fixtures, some exposed brickwork, and lots of nods to its woody moniker with polished wood floors and bare bones wooden shelving and storage at and surrounding their attractive bar, which takes centre stage in the restaurant.
A la carte starters might include the likes of Donegal scallops with crispy pork cheek and an apple & celeriac slaw; goats cheese croquettes with pear, chicory and toasted seeds; or garlic and lemon prawns with curried cauliflower and grilled flatbread. Their Oak Room lemon chicken Caesar salad is popular, as is their confit Silverhill duck salad starter with smoked pancetta, peas and orange.
The mains here are fab sumptuous portions that still manage to be delicate and beautifully presented. Their herb crusted rack of Cavan spring lamb is a delight with goat's cheese gnocchi and a mint & pea veloute, while their Gressingham duck breast with smoked date puree, pressed potato and a cherry jus is delicious as well.