Foodies Fight Back with Lucinda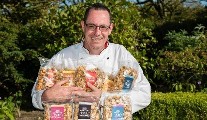 Wednesday 02 September 2020
The Caterer
Some years back, Kerry chef Pat O'Sullivan set up his Master Chefs Organisation based in Limerick and since then it has grown and grown.
"We operate in multiple market sectors," says Pat, "including healthcare, education, sports and leisure, events and the high street, with our head office based at the Artisan Food Factory where we hand-craft a bespoke range of products that support our outlets nationwide. "On March 12, we closed dozens of outlets, effectively closing 80pc of our business, placing hundreds of staff on temporary lay-off."
With businesses everywhere facing the same reality, Pat knew they'd need to adapt. "I saw it as an opportunity to 'press the reset button', strip back the business and see how we could achieve the same outcome while keeping labour, our single biggest cost, under control. At the start of April, we set about working with a company in Italy (who were also in lockdown) to develop technology and build an oven to allow us to regenerate our hand-crafted gourmet meals in an a la carte environment. We branded the range Chefs & Bakers."
Pat's new venture provides a solution not only for themselves but also for others, including pubs, that previously didn't serve food. With limited investment and no need for a commercial kitchen, it's a very attractive proposition. "Menus will change with the seasons, we effectively become your head chef. We've partnered with Corcoran Food Equipment for fit-out and will have a national partner to distribute meals. We also envisage that it will provide a solution for nursing homes, hotels, restaurants and cafes."
masterchefs.ie
The Producer
New Zealand native Matthew Brownie has been a professional chef for 26 years, with experience working there and in Australia where he met his wife Ann, who's from Skibbereen. In 2008, after spending a decade in Dublin, he and Ann dropped anchor in west Cork. Matthew, who has been affectionately dubbed 'The Kiwi Culchie', was studying culinary arts at Cork Institute of Technology in 2011 when he came up with the idea for his Scratch My Pork range of pork crackling snacks, and The Skibbereen Food Company was born.
With the arrival of Covid-19, Matthew lost 40pc of his business, and when the lockdown happened he put the time to good use, strengthening their website and starting a YouTube channel. "Each recipe can be watched step by step and takes you to the website where you can print the recipes. We're back to full force now and new stores are taking on the product ranges every day. The West Cork Enterprise Board deserves a big mention for funding not only for The Skibbereen Food Company but for all west Cork businesses."
His latest innovation is the Pork Crunch range - puffed up pieces of pork back rind, double cooked in their own juices. "The company is in great position financially and structurally, and shortly it will be time for new markets and further new products."
skibbereenfoodco.com
The Restaurant
"We used to vandalise this place when we had cider parties in the 1960s," Joe Donnelly says, talking of growing up in hard times in Ringsend. Now the former Mission Hall is the Fair Play Cafe, with childcare facilities and garden centre run by Joe and wife Sharon. Its ethos of bringing hope and love to the community was never more appreciated.
lucindaosullivan.com
First Published In The Sunday Independent