Foodies Fight Back With Lucinda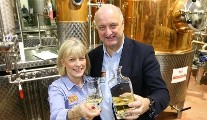 Wednesday 19 August 2020
THE DISTILLER
Patrick 'PJ' Rigney is the founder owner of The Shed Distillery in Drumshanbo, Co Leitrim, the first distillery in Connacht for more than a century, and his fab Drumshanbo Gunpowder Irish Gin is up there with the best.
"Today, 35 full-time employees proudly slow-distill hand-bottled Drumshanbo Gunpowder Irish Gin for over 60 international markets stretching from London to New York, Disney to Cunard," PJ says.
"The challenge of Covid has been immense, not least the reduction in the bar travel retail business across the world. To mitigate this, The Shed Distillery has responded with an innovation pipeline including a new handmade ceramic special-edition bottle for the take-home market and the launch of Drumshanbo Single Pot Still Irish Whiskey, after five years of distillation, produced at The Shed by distiller Brian Taft. It's the first whiskey distilled in Connacht for over 105 years."
While businesses everywhere watch the landscape shift from week to week, many feel like they're walking on sand, but PJ remains positive. "Soon, employee numbers will grow to more than 50, with the opening of our highly anticipated new visitors experience. Delayed by the Covid lockdown, this opportunity to tour our fully operational distillery will open later this summer. Also at the distillery will be the bright and spacious Jackalope Cafe serving a wide range of hearty local foods."
thesheddistillery.com
THE PRODUCER
Mention smoked trout in food circles and most people will say 'Goatsbridge', which goes to show how successful Mag and Ger Kirwan have been. Mag the tireless promoter, and Ger the quiet man who gets on with the work at their Goatsbridge Trout Farm in Thomastown, Co Kilkenny.
"Goatsbridge has survived, so far, with approximately 30pc reduction in sales, mainly into the food service industry," says Mag. They're fortunate to also supply retail in Ireland and the UK, as well as fishmongers and wholesalers. They also sell online.
"The level of customer support has been fantastic. Whether it was that Kickstart promotion in Lidl, a new SKU in Aldi, or the additional promotions in SuperValu, we've managed to maintain some level of sales and for this we're thankful," says Mag.
She is also grateful to government agencies. "Our local Enterprise Board helped with business interruption grants; InterTradeIreland offered free eCommerce mentoring; BIM helped highlight our plight of overstocking; and Bord Bia identified new behaviours, some which will stick and some which will go as normality returns."
Mag and Ger see Covid as an opportunity. A time to be brave. They plan on making that investment they'd been putting off, improving and upgrading their production facilities, so that when things turn, Goatsbridge will be ready.
goatsbridgetrout.ie
THE RESTAURANT
I doubt there are very many who know more about the sea than Cáitlín Uí Aodha. She's director of the Irish South and East Fish Producers Organisation, and also chair of Lost at Sea Tragedies. A businesswoman to her fingertips, she has just opened IASC Seafood Bar, plus a takeaway nearby, on O'Connell St in Dungarvan, Co Waterford.
"I come from Helvick, in the Gaeltacht of An Rinn, from an indigenous fishing family. My dad, Tom Kelly (pictured behind her in the 1960s above), was a well-known fisherman around the south coast. Living a life from the sea, though rewarding, isn't always easy. The sea can be cruel, but it defines us as resilient and strong," says Cáitlín.
"Like many others along the coast, we've suffered losses. At 7am on January 15, 2012, the phone woke me, and the voicemail simply said: 'Cáitlín, this is Valencia radio, please call.' I knew what this meant. Our lives as a family would change forever, we'd have to deal with the tragic loss of Michael, my husband - the man I'd known for 30 years. The four kids lost their dad." Along with Michael, almost his entire crew was lost - with only one survivor of the Tit Bonhomme, which went down at the mouth of Glandore Harbour.
Initially, Cáitlín opened IASC as a takeaway, with seating for 20 people, just two weeks before the pandemic. However, removing the seating, the takeaway proved so popular during the lockdown that she needed more space and acquired another premises a few doors down.
lucindaosullivan.com
First Published In The Sunday Independent