Foodies Fight Back with Lucinda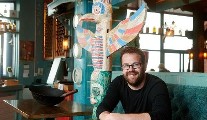 Thursday 13 August 2020
THE FOOD TRUCK
When you see Ballydehob native Alan Shannon's big, sleek van outside a house or community hall, you can be sure there's a party in the offing. He and his business partner, fellow chef Kieran Coughlan, have created 'Thyme2eat', a great, niche community catering business in Co Cork. Having worked together for a number of years at Drinagh Co-Op, last year they decided to go into business together, whirling up to front gardens, local pubs or community halls, at reasonable prices.
"Every village or town in west Cork has a core group of people who work in the community halls, and organise festivals, and we go to them and say what can we do for ye that will keep things going in your town or village. Say, if it's a publican that wants us to cater for a BBQ on a summer's evening, we'll do it; if it's a funeral in a local community hall out in Goleen or Kilcrohane, we can do that too."
Facing into 2020, things were going great, with lots of bookings for communions and confirmations but with Covid they were all cancelled. However, the guys are absolutely driven, and they've had a great July, with events and BBQs. Their base kitchen is at Bantry Golf Club, where they also cater for all the club events. They're also at Bantry market, and in Baltimore at weekends, and they've just gotten a licence for Kenmare Market. Weddings are around €60 a head, plus VAT; BBQs €10-€12 per head; main course dinners €15-€17.50. "Things are going the right way," says Alan.
Call (086) 322-7150/(086) 662-2219 for more information.
THE PRODUCER
Susan Robbins and Tom Fehily's Wildberry Bakery in Ballineen in west Cork, specialising in fab gluten-free delights, has gone from strength to strength since it put down stakes in 2014, primarily supplying high-end hotels and cafes such as Cafe Sol, Butlers Chocolate Cafes and AVOCA.
"We've been very fortunate with awards, twice taking gold in categories that weren't gluten free," says Susan.
However, in spite of their success and the stellar reputation they'd built, they, too, have had to scramble in these unprecedented times. "Overnight we lost over 80pc of our business. We reluctantly had to let our lovely staff go while we figured out how to bounce back. We were determined not to lose what we had worked so hard, and risked so much, to build. With the closure of hotels and cafes, we had to shift our focus to reaching customers directly. An online business seemed the only way to go. So, we took one of our most popular and versatile products - brownies - and created a whole range of delicious variations. Handmade, hand-packed treats, straight to your door. We also hope to have a food service section of the website running shortly."
Susan credits their local Enterprise board, and mentor, James Burke, for helping them to turn this difficult corner, and says that, "while we're still nowhere near where we once were, most of our staff have now returned and the future is looking much brighter".
wildberrybakery.com
THE RESTAURANT
Randy Lewis's much-loved surfer's paradise, Randaddy's on the seafront in Lahinch, Co Clare, has long since been a fave among locals and tourists, serving tasty, all-day food in a spacious setting with a great outdoor terraced area. But, with his business dependent on the summer trade and then the onset of Covid, he tells me that "effectively we've been nine months in deficit. I laid-off all my staff and kept one chef on who has been with me since the beginning. I know it's going to be hard to rehire people going forward as it's difficult to predict how many we will need, and in a seaside resort like Lahinch, we tend to go from zero to 100 very quickly. Sales wise, we are down 90pc on this time last year, which is devastating."
lucindaosullivan.com
First Published In The Sunday Independent