Restaurant Review - Canteen Marlin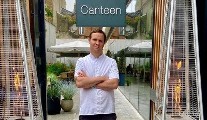 Thursday 06 August 2020
Opening a new restaurant in the first week after a nationwide lockdown has to be the ultimate foodie challenge. However, if all of this weighed heavily on James Sheridan's shoulders as we arrived into the new Canteen Marlin at The Marlin Hotel on its first night, he gave no indication that anything was other than normal, or should I say the new normal, with guests being checked in at the terrace entrance to the hotel, and all staff wearing masks and being ultra-careful not to intrude on our personal space.
James Sheridan's original Canteen was in a shack-like cafe, with an outside loo, in the Blackrock Market, but it was stupendous. It led the way in the Blackrock Market becoming the hot dining venue it now is. James then moved Canteen to Celbridge, where he lives, handing over the Blackrock premises to Heron & Grey, who achieved a Michelin star there. That collaboration broke down and Damien Grey went solo, spending a bucket of money on the premises, to create Liath, which quickly earned its own Michelin star. This third incarnation of Canteen is cocooned in a plush red-velvet sanctuary off a big bar, but it also has a great terrace area, where we were seated, and which is undoubtedly a boon to any restaurateur in these times.
Under the vast umbrella/heater, we celebrated being in the real world again with a Long Island Tea (€12.50) and a Tom Collins (€10.50), while urban street sounds, and raindrops on the canvas above us, were all sweet music to our ears. Dinner, three courses, is €58, but we were there for the Pre-Theatre Menu (5pm to 6.30pm) with two/three courses at €29/€34.