Foodies Fight Back with Lucinda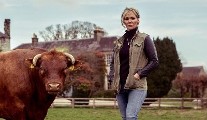 Thursday 30 July 2020
THE FISH & CHIP BOX
What's better than great seafood when you're on holiday? Well, if you're on the South West trail, the best fish 'n' chips are to be found at the eponymous Rosscarbery Traditional Fish & Chips. It's also a hot favourite of my colleague Eoghan Harris when he's resting in his beloved West Cork.
Located on the N71 at Creggane, by a Top petrol station and a Spar shop, you can also have great burgers (€3.30-€8.90) with a local twist, like The Big Fella or The Drombeg Burger. But the fishy heroes - haddock, hake, and scampi - are knockout, priced between €5.70 and €6.30. They also have great deals for kids, too. Like everyone else in the country, they've been affected by Covid-19, but, as daughter of the house, Cassidy Hawkins, explained, they sprang into action by adding a lovely Covid-conscious cafe garden where they've created a stress-free green escape.
Never mind two-metres, tables seem to be four-metres apart, with two waitresses constantly present, distancing and observing. Contactless orders are taken on a tablet and whizzed straight to the kitchen, from where the food is brought direct to your table. Lots of gluten-free options. Pre-order: (023) 886-9694.
facebook.com
THE PRODUCER
Eavaun Carmody, of Killenure Castle Dexter Gourmet, in Co Tipperary, has spent the last eight years growing her business, specialising in boutique beef, charcuterie, gourmet dripping and leather goods. The Dexter breed has been in serious decline in Ireland, and Eavaun has made it her mission to ensure this wonderful beast doesn't go mooing off into the sunset. Her herd of 800 cattle represents 40pc of Ireland's Dexter population.
"We were picking up great traction, selling eight to 10 carcasses per week, plus charcuterie, and we'd opened an online shop for the leather goods," she said. "Then Covid showed its ugly head and over 95pc of our customers closed due to government legislation.
"We continued to make charcuterie sales in luxury food boxes with the help of Sean Hussey & Sons, but, financially, this was just an ice-cube in a hot bath. I have no land. Our animals are in a B&B system with local farmers, who still had to be paid, so this was a huge source of anxiety. Eight years of blood, sweat and tears had gone into this project."
But, like so many of our hard-working enterprising producers, Eavaun picked herself up and forged onwards.
"What we've decided to do, going forward, is to distribute directly to our chefs and hotels, paddock to plate, cutting out the big distribution companies, which decreases the prices for the chefs and in turn, the end user. We're also planning to export to France. We're exporting to Hong Kong as it is, but the Continent would give us a bigger playing field. We had 28 people working on this project and are currently down to seven, but I know in time that I will get these people back."
killenure.com
THE RESTAURANT
"Opening a restaurant is hard at any time. Opening a restaurant without your wife, business partner and all-round wingman makes it that bit tougher. But, attempting to open a restaurant during a pandemic is a colossal undertaking."
So says James Sheridan, who has just opened Canteen restaurant at the Marlin Hotel on Bow Lane East, within the golden mile around St Stephen's Green.
James and his wife, French chef Soizic Humbert, who had a baby in May, had originally founded their Canteen at the Blackrock Market, before moving to his home area of Celbridge, but now James is back waving the pots and pans in the big smoke...
lucindaosullivan.com
First Published In The Sunday Independent