Foodies Fight Back with Lucinda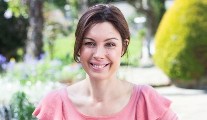 Wednesday 22 July 2020
THE FOOD BOX
Erica Sheehan started her Homespun business at Brid Carter's Honest to Goodness Farmers' Market in Glasnevin and now her quinoa granolas are sold in Selfridges, Harrods, SuperValu, Avoca, plus Spinney's in Dubai and Ocado. After university, the mother of two worked at TV3 and later in PR with Coca-Cola.
"I got to work with very smart, creative people but my heart wasn't in it," she said. "Deep down, I wanted to immerse myself in a small food business and nurture my interest in nutrition. I was and am very influenced by cult healthy food blogs and would have recreated a lot of recipes adding my own nutritious twist. I always liked granola and started experimenting, that's how I created Quinoa Crunch. It's gluten, wheat and refined-sugar free and high in fibre, vitamin E and magnesium." Homespun's new website has just gone live.
homespun.ie
THE FOOD TRUCK
Having worked their way through 20 countries over five years, Seany McKenna and his fiancee Nikita McCrory returned to Glaslough, Co Monaghan, fired up by the rising global street-food scene and set up their Blasta Street Kitchen food-truck concept in 2017. It took off and they quickly realised the endless possibilities. However, never was the timing more opportune than now, with so many food businesses, pubs, hotels and restaurants looking to add a food truck to get their food out there.
"After the success of Blasta Street Kitchen in its first three years, it was nominated for Best Emerging Franchise," said Seany. "We were approached by potential franchisees, but, after meeting 30 people over the past couple of years, we decided against it."
However, the couple had a lightbulb moment, spotting a gaping hole in the market for a street-food consultancy that could help others set up their own concepts. So, last year, StreatSchool was born.
Now, Seany and Nikita design, manufacture and sell bespoke food trailers and mobile kitchens. They also provide services which include branding, design, menu planning and costing, staff training, supply chain management. Everything that's needed to GET YOUR EATS TO THE STREETS.
They've been working with many prominent food companies, including Silver Hill Farm who supply duck all over the world. Seany said: "Enterprise Ireland have recognised StreatSchool as a high potential start-up and we've also been successful in raising private investment for our latest venture."
streatschool.com
THE RESTAURANT
Eileen Dunne and her husband Stefano Crescenzi changed the face of Italian dining in Ireland with their hugely successful Dunne & Crescenzi restaurants operating in South Frederick Street, Dundrum; Sandymount and the Kildare Outlet Village.
"A major hurdle facing restaurateurs is how to create a remarkable dining experience within the realm of sanitisers, floor markings, signage, masked waiters - a contactless service, without the risk of creating a Bunuelian scenography. Or perhaps that is the way to go, a totally new and bizarre dining experience," says Eileen, who is going all out to pamper their customers with treats.
lucindaosullivan.com
First Published In The Sunday Independent