Foodies Fight Back with Lucinda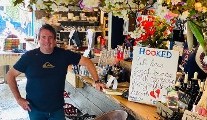 Wednesday 15 July 2020
THE FOOD BOX
Jemmy McCann grew up with mushrooms, which his parents produced for the UK wholesale market for 30 years. They retired and in 2018 he started Ard Mhacha Mushrooms, on the home farm in Silverbridge, Co Armagh, specialising in Shitake and Oyster mushrooms, which have become the darlings of hot chefs around the country.
A site carpenter by trade, Jemmy always had a keen interest in growing speciality mushrooms. Working in Australia and England, he visited many farms where he first saw growers producing their own compost, and loved the idea of the grower being in control of their operation from start to finish.
"My first customer was Conor Mee, of the Courthouse restaurant in Carrickmacross," he said. "My cropping was volatile at the time but he worked with me and told me I had something very special and I needed to keep going."
In January 2019, he met Sean and Jayne Hussey, of Hussey's Farm. "I came home delighted that they bought all my mushrooms, and my father, Kevin, said, 'what the hell are we going to do next week, Jemmy?', as crop yields were still volatile."
He was due to increase his growing operation as Covid-19 struck. The restaurant trade seized overnight and he thought that was it.
"My sales direction had to be changed very fast as these mushrooms don't stop growing. Since March, the little 150g Shitake and 200g Grey Oyster retail boxes have come on the scene and done so well that I can't keep up with orders. I cannot thank the general public enough. They've got behind Irish producers during the pandemic and made all the work - seven days a week - worthwhile."
@Mhacha_Shitake
THE CRAFTER
SMEs are the lifeblood of this country and they've been rocked to the core. Tara and Ed Hammond's Slated, which produces beautiful artisan tableware crafted by Ed in Dalkey, Co Dublin, is one of such SME massively affected by the devastation of Covid-19.
I first came across Tara 10 years ago during the last recession, and, oh boy, is she a fighter. "Slated kickstarted 2020 with plastic-free packaging - we thought that was our toughest challenge of 2020," she said. "How wrong we were."
Having started in a recession, they were all too aware of how lean times can be. "Overheads needed to be lowered, cashflow watched like a hawk. Ten years of hard work had got us to the fortunate position where we had numerous revenue streams - restaurants, stockists, corporate clients and direct customers. Watching our customers close was devastating, long-standing relationships made it feel so personal. Suddenly we were left with just our online sales. We took two weeks to reassess and to try and formulate a plan for the foreseeable future. It will be a steep learning curve for us, and we won't learn it all but we will try our hardest."
Slated's personalised carved cheese boards have become bestsellers as gifts. "Every order we receive reminds us how amazing Irish people are at supporting small, independent businesses, and every order means the world to us. If Ireland minds Ireland and thinks local, we should all make it out the other side."
slated.ie
THE RESTAURANT
Restaurateur Anthony Gray was used to the adrenaline rush of running his two popular restaurants, Eala Bhan and Hooked in the heart of Sligo town, jumping between both as he expertly kept the plates spinning, but everything changed for him when the lockdown came into effect.
"On March 16, I closed both of my restaurants, not knowing what was in store." he says. "But slowly I came to terms with this hateful virus and the effect it was having on my life, along with the fear for my family, myself, my staff and businesses. One of my colleagues suggested I do a cookery video online. It was great fun, and to be stopped on the street and asked when the next one was coming out gave me a great lift."
lucindaosullivan.com
First Published In The Sunday Independent