Foodies Fight Back with Lucinda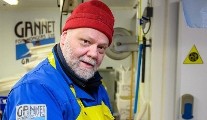 Wednesday 08 July 2020
The Fish Box
Following the shutdown of the hospitality industry and markets, Stefan Griesbach, of Galway's Gannet Fishmongers wasted no time swinging into action with his fledgling online portal. "It went from a cottage industry project in development to becoming a monster," he says.
"Setting up an online store sounded easy - buy a website, populate it with products, sell and make money. With everyone in lockdown, cooking good food became a comfort. Panic bulk-buying orders poured in uncontrollably."
Stefan had to cap the number of orders they could handle, restrict selection, splitting the team into shifts to allow extra working space and was only able to leave the online store open for short spells. "Too much business brings its own problems. We struggled to maintain service to our pre-existing online customers and regular shoppers in Galway.
"The lack of export market for some species may have forced some boats to stop working. Not so much the big ones catching fish and prawns, but more an issue for seafood such as scallops and lobsters. We've been working with the same guys for years in Ballycotton, Ciaran, our scallop fisherman in Clew Bay, and PJ our lobster guy in Lettermore. We reopened our shop and markets a month ago. We're still very busy online but a welcome reduction in the volume of orders means we're able to open our online store 24/7."
eatmorefish.ie
The Producer
Making good use of his downtime, Thomas Clarke, of The Fig Tree restaurant on Kilkenny's High Street, became a food producer, launching two dressings into five SuperValu branches in Kilkenny city and county only four weeks ago. He and wife Helen set up The Fig Tree in September 2011 in the middle of a recession. "Covid-19 has had a devastating effect on our business," he said. "It took us four years to establish the business and now we feel we're restarting in very difficult times.
"We provide home baking, chutneys and jams, along with a casual dining experience, seven days week, employing 10 people. Kilkenny is a beautiful medieval city. We have a fantastic local customer base, but we need tourists to sustain our business."
The Fig Tree original house dressing (vegan) and the honey and cayenne version (vegetarian) are emulsified and can also be used for marinating fish or chicken. Both are gluten free. The restaurant is reopening on Wednesday next with a reduced menu and seating at less than half capacity to accommodate socia-distancing regulations.
"We are ambitious to resume," says Thomas. "The VAT rate needs to be reviewed and we certainly need support to survive."
thefigtreerestaurant.ie
The Restaurant
As a shareholder and longtime manager of Restaurant Patrick Guilbaud - with two Michelin stars - there isn't a thing the urbane Stephane Robin doesn't know about the dining secrets and vagaries of the rich and famous. From pop stars to politicians, billionaires to visiting royalty, presidents to normal people, Stephane greets them all in the same welcoming fashion.
lucindaosullivan.com
First Published In The Sunday Independent