Foodies Fight Back with Lucinda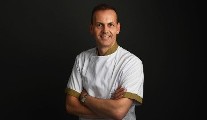 Wednesday 01 July 2020
THE FOOD BOX
The sight of Le Patissier's boxes of divine pastries and desserts arriving on doorsteps has been the cause of much delight lately. One even features desserts by seven of Ireland's top pastry chefs - a celebrity special you might say.
Proprietor and chef Robert Bullock set up his wholesale business in 2012 from his kitchen counter in Skerries, before progressing to a purpose-built kitchen in Mulhuddart. He laughingly recounts his appearance on Dragons' Den in 2013, when he failed to get investment. "Gavin Duffy's parting words were: 'I don't think this pie is going to rise.'"
But when Covid struck, Le Patissier lost nearly all its wholesale business. By week two his staff were temporarily laid off. But, with the help of Aaron, his nephew, Robert launched an online shop offering their fab patisseries across Dublin. Initially, it was a collection service, then deliveries Thursday-Saturday, with Robert, family and friends all helping out. With half of his team already back in the kitchen, everyone's adjusting to the new business model. "The focus now is to expand the service to other counties, develop the range, grow the online business and keep the lights on until the wholesale market is ready to go again."
lepatissier.ie
THE PRODUCER
When the king and queen of Sweden visited Ireland last year, one place on their agenda was the Burren Smokehouse in Lisdoonvarna, owned by Birgitta Hedin Curtin, who is Swedish by birth, and her husband Peter. But, it wasn't Birgitta's first brush with royalty, for her smoked salmon was served at the State dinner for Queen Elizabeth at Dublin Castle in 2011.
"Burren Smokehouse is surviving on retail and online sales. We really miss our tourists, food service and airport duty-free sales. We're 40pc down on sales, but we're still kicking!" says Birgitta.
The Smokehouse Food Shop is open now, but "If I didn't have the support of the wage subsidy, I wouldn't be able to keep 15 of the 20 staff on full-time. Networking and Zoom seminars have kept me up to date and kept my sanity. My plan is to invest more in digital and a destination marketing website with more functionality and bookable experiences. I hope we'll have visitors this summer and look forward to welcoming domestic tourism to the Burren. We'll roll out the red carpet."
burrensmokehouse.com
THE RESTAURANT
Michelin-starred chef Ross Lewis of Chapter One, has led the way here, continually innovating and leading the field in Irish cuisine.
"I ask every international customer what they most enjoyed about Ireland and, apart from the welcome and scenery, they frequently say the Irish food experience. This blows me away as it is a recent phenomenon, I believe, coinciding with the rise in standard of Ireland's emerging food sector, in which I've been knee deep for 30 years.
"But, on March 14, I addressed a shocked 34-strong staff as to what closing the doors that night would mean. The extended lockdown period has been deeply contemplative in a way that leaves you vulnerable, while those around you, family and staff, look for reassurance. Not something that they teach you to deal with in catering college.
"So now we contemplate the reawakening. Almost hourly, I contemplate our own re-entry and will admit to getting increasingly nervous. Searching for a tactical re-entry point is like playing chess with my future, and those of my staff and family, fearing that wrong moves could end in disaster. July and August in Dublin are two notoriously tricky months, but this year is worse with no tourists, theatres, conferences or events. Throw on top of this diminished seating and an apprehensive public and staff.
"One surety is that we can't contemplate any future without robust government support. Extending the wage supplement, a further rates freeze and a decrease in VAT are some of the bare essentials. Providing liquidity is another. Supports will need to be meaningfully extended if our preciously important restaurant sector, a vibrant, world-class industry knitted together from the landscape of our Irish farmers, small producers and food family, is to survive."
chapteronerestaurant.com
THE HOTEL
Patricia Roberts took a big step when she opened No.1 Pery Square as a boutique hotel in the Georgian Quarter of Limerick a decade ago. It soon became a destination for its elegant accommodation, great food, afternoon tea, a drink and a casual bite, and its superb urban spa.
The shock of Covid closure and laying off 40 staff was a desperately hard blow for Patricia, who, in 20 years of self-employment, had never laid off staff. "2019 was a great year, and 2020 was to be the best year, but now it's all about survival," she says.
lucindaosullivan.com
First Published In The Sunday Independent