Foodies Fight Back with Lucinda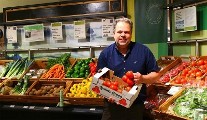 Wednesday 10 June 2020
THE FOOD BOX
Ardkeen Quality Food Store, focusing on small-scale artisan producers, has been a leading light on Waterford's food scene for many years. Founded by Robert and Pamela Jephson in 1967 as a small grocery store with petrol pumps, it became a destination for lovers of good food and is now run by their sons, Colin, Gerald and Kevin.
"The store has always been a community hub; customers come for the chat as much as for their loaf of sourdough," says Colin. "Since March, those chats have turned to nods and we no longer have huddles of animated discussion in the aisles but we hope we will see that return in the near future. For now, we consider ourselves lucky that we are an essential business and are able to keep trading, with some minor adjustments to our offering."
They acted early and swiftly with protective protocols, and because they are independent, were able to respond with flexibility, adding new lines of household essentials, creating pantry top-ups and vegetable delivery boxes, and offering a temporary contactless purchase and pickup service for older and vulnerable customers.
"Online food shopping has accelerated in an unprecedented way but our team have coped incredibly well." says Colin. "Our veg boxes are very popular, without doubt freshness and provenance coming to the fore. And, of course, everyone is baking! So there's been a significant surge in the purchase of related products such as flour, yeast and specialist items."
Ardkeen's online store, which ships worldwide, features a huge range of the best Irish artisan food available.
ardkeen.com
THE PRODUCER
In Baltray, Co Louth, Marita and Peter Collier's 100-acre Drummond House Farm deals in rather unique crops for this part of the world - growing fab fresh garlic and asparagus.
Having inherited the farm in 2008 from Peter's late uncle, the next six years were spent restoring the property and finding their own niche.
"On a trip to the Himalayas in 2012, I saw that certain varieties of garlic grew really well in cold, damp, wet and windy conditions, and I thought that's exactly like our weather in Baltray," says Marita. "We created the first ever garlic category on the Irish market, and also a Garlic Clove Pack, giving the consumer the choice of different varieties of loose garlic cloves in a packet. Overnight though, our food service business was completely gone, and I didn't know how the retail side would perform. But, after the initial gut-punching shock, we said, 'we've faced challenges and obstacles before, everyone is in the same boat'.
"Thankfully, luck, karma and great friendships all came up trumps. I'd been selling to Sean Hussey, of Hussey's Fruit & Veg, and he has been just unbelievable. He spoke to all the small growers and producers and was determined that he was going to find a way to get our produce sold. The fruit and veg boxes delivered to customers' homes have been just amazing for my business.
"I'm very hopeful about this new season. It will be different in lots of ways, but I certainly do see a future that perhaps six weeks ago I could not even imagine."
Drummond House has now launched its online store, delivering nationwide.
drummondhouse.ie
First Published In The Sunday Independent