Foodies Fight Back with Lucinda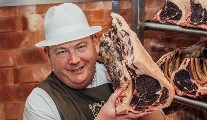 Wednesday 27 May 2020
THE BUTCHER
Ten years ago at a Tipperary Food Producers' dinner in the magnificent refectory of Rockwell College in Cashel, Pat Whelan, a Clonmel butcher, confided that he'd been approached by Simon Pratt to open in their then new Avoca Food Hall near me in Monkstown. It was a big step with a different customer base. Pat, however, a man of great vision, went on to be a sensation in the butchering business. He now has nine other James Whelan shops in Leinster and Munster, including Avoca Rathcoole and Kilmacanogue and seven other branches, following his merger with Dunnes Stores, in Dublin, Cork, Limerick and Naas.
"Back in the 1960s, it was difficult for people to come into town to shop, so my mother would fill up the boot of her car and deliver door to door to her customers."
Like mother, like son, in 1999, they became the first butchers in Ireland to go online. "People thought I was mad." He was, as always, way ahead of the posse. Pat also garnered acclaim for Irish food in 2015 when he was the overall winner at the UK's Great Taste Awards for his mammy's 'dripping' - now on sale in Harrods and Fortnum & Mason!
"More than ever, as food producers, we have a very important role to play ensuring our shops and online stores are fully stocked every day of the week. We've seen unprecedented demands for our National Delivery Service, and have launched two new food hampers - The Family Collection and The Artisan Collection at €120 each. We've also introduced a local service with next-day delivery if you live within 15km of any of our 10 shops."
THE PRODUCER
"In the latter days of Arbutus Lodge restaurant, I developed a passion for bread making, especially sourdough, using a ferment I created with mulched organic grapes," says Declan Ryan, of Cork's famed Arbutus Breads.
However, Declan Ryan is not just famous for his breads. He and his wife Patsy achieved Ireland's first Michelin Star in 1974 at their legendary Arbutus Lodge in Cork which operated until 1999.
"We opened Arbutus Breads in a small renovated garage and, from a one-baker operation, we've expanded to eight bakers, supplying delis, restaurants, selling at country markets - Midleton, Douglas and Mahon, the English Market - and distributing nationwide with Odaios Foods..."
First Published In The Sunday Independent