Takeaway News - The Hungry Bear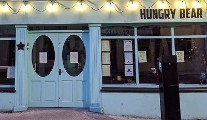 Thursday 21 May 2020
Ken Reddin's fab Hungry Bear restaurant in Gorey, Co.Wexford specialises in great breakfasts and lunches and, to everyone's delight, it has now reopened for takeouts.
Help yourself to a hearty Hungry Bear breakfast, or maybe some homemade buttermilk pancakes or a vegan coconut waffle to kick off the day. For lunch, think chicken wings, wraps, sambos and a gorgeous vegan Budha bowl, or, for the ambitious eater, try the Hungry Bear Dirty Burger. "Can you fit your mouth around it?" they challenge.
They do great baked goods, if you want to indulge your sweet tooth, and they have some fantastic kid's options too. So, feed the whole flock!
Call & Collect from Wed-Sun from 9am-3pm.
Tel: (053) 948-4414
See facebook.com