Takeaway News - Dela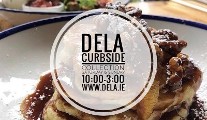 Monday 18 May 2020
Located at 51 Lower Dominick Street in Galway's West End, Dela's menus are inspired by the Scandinavian style of eating but with an Irish twist. Owners Joe and Margaret Bohan share an ethos that focuses on the best of local and seasonal artisan produce from recognized suppliers, to provide delicious food accompanied by a great glass of wine or a craft beer.
Currently, they are offering a Curbside Collection service on Saturdays & Sundays from 10am-3pm, with great dishes to choose from like confit duck leg, smoked salmon arancini, butterscotch pancakes, and a brunch burrito. Beer, wine and cocktails are available also.
To order check out their website, or call (091) 449-252 after 10am on Sat/Sun.