Takeaway News - Rasam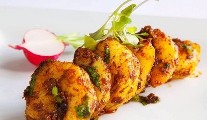 Wednesday 29 April 2020
Nisheeth Tak's spectacular Rasam Indian Restaurant in Sandycove, Co. Dublin is currently offering its superb cuisine via takeaway from Tuesday to Sunday from 4pm to 9pm.
Rasam's food is always divine, and its current takeaway menu features delicious dishes from Tiger Prawns in a sweet & tangy mango sauce to Chettinad Chicken with curry leaves, stone flower & fennel, to an Old Delhi Butter Chicken dish in an exotic fresh tomato sauce. Order the Rasam Platter to share, featuring a little bit of almost everything from their fab starters selection. Great vegetarian options too.
To order call (01) 230-0600, or email before 5pm (please include your phone number), and they will be happy to take your order and drop it down to your car. Contactless payment only.