Takeaway News - 3 Leaves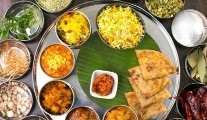 Tuesday 28 April 2020
Santosh & Millie Thomas' fab and flavour packed 3 Leaves Indian Restaurant in the Blackrock Market, Co. Dublin, is currently offering a pre-order via website and collect service from Thursday to Saturday 5pm to 8pm.
The menus changes frequently, so it's not published online, but once you book a slot for your pre-order, you will receive an email with the current menu where you select the items and confirm your order.
Think maybe Jheenga Gambos (jumbo prawns) infused in saffron and cheese with a mango sauce or maybe a slow cooked lamb rasella in a rich Qorma paste.
To ensure best practice when it comes to social distancing and staff safety, they can only fulfil a limited number of orders each day. The calendar for booking the pre-order opens on a weekly basis every Wednesday at 2pm.