Takeaway News - Guinea Pig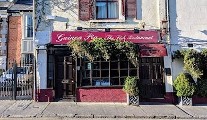 Thursday 23 April 2020
When he took the reins of the much loved and long standing Guinea Pig Restaurant in Dalkey, Co. Dublin, French Chef/Owner Jerome Fernandes brought his own flair and style, much to the delight of Dalkey's denizens, and, since then, it has gone from strength to strength.
If you're looking to chow down at home on some truly fabulous restaurant-quality food, then check out his new call and collect service, running Wednesday-Saturday from 5.30pm-7.30pm.
To order, call Jerome on (01) 285-9055 (one day in advance if possible). Contactless credit card payment is taken by phone and you will be given a collection time. Please call/message when you are outside and your order and receipt will be dropped out.
Check out the menus via their website or by social media.
Special requirements can be accommodated with advance notice, including black sole, lobster, fillet steak or lamb.
Wine is available with a 30% discount. Call for further details.