Takeaway News - Pickle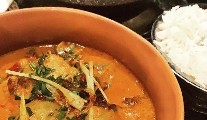 Wednesday 22 April 2020
Star chef Sunil Ghai's fab pickle restaurant, on Camden Street, Dublin 2, has introduced its new Pickle@Home service with food being available for collection from 5pm-10pm Tuesday to Thursday and 4pm-10pm Friday to Sunday.
So, treat yourself to the best of North Indian regional fare, from the comfort of your own dinner table, with delicious dishes such as a Goan seafood curry, kid goat mice curry or a tasty tandoori kebab box.
Check out their takeaway menu, on their website or via social media, and place your order online or by calling (01) 555-7755.
Deliveries available.
Please Note: Pickle is offering a 15% discount from menu prices.