Takeaway News - Randaddy's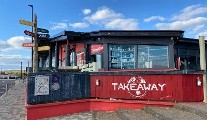 Tuesday 14 April 2020
From 5pm-9pm daily, Chef/Proprietor Randy Lewis' fun fab Randaddy's restaurant on the seafront in Lahinch, Co. Mayo, is currently offering great takeaway meals from pizza and burgers to curries, fish and veg dishes too.
To order, call 065 708-2740, make a contactless payment over the phone, then collect your meal from Randaddy's new takeaway hub, and take home some of the good vibrations from this beloved Beach Boy's paradise. The menu is available on Facebook/Instagram/Twitter.
If you fancy trying your hand at some of Randy's Recipes, check out Lewis' fun and easy to follow online instructional videos on social media.