Restaurant Review - Cush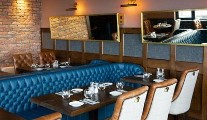 Wednesday 08 April 2020
Ballycotton, in east Cork, is one of those 'hidden in plain sight' villages that every tourist would love to 'discover' as their secret, but seldom do. Instead, they take the road more travelled, bypassing the best coastal locations as they race around the island.
Perched on the side of a cliff, Ballycotton's attributes are visible from its narrow road down to its harbour and fishing boats, or on its beautiful cliff walk, which has views out to Ballycotton Lighthouse and the endless blue waters beyond.
You're not going to find any mega supermarkets, just a few quirky pubs, a casual diner with views they'd kill for in Sorrento, and the brilliant little Bayview Hotel - which only has sea-view rooms.
There's a natural understated exclusiveness about Ballycotton, with many of the cliff-side houses being the holiday homes of Dublin and Cork lawyers, and other wealthy foodie bods.
However, the billionaire I write about today is a home-grown man of Ballycotton, who made his fortune across the water in telecoms and tech. Pearse Flynn, who owns and heads up Creditfix, a British debt-solution company, now wants to give back to the village where he was born.
Having built the most stunning Grand Designs-type cliff-side house overlooking Ballycotton Lighthouse, Flynn bought the small Pier 26 bar and restaurant and, having ploughed a bucket of money into it, has turned it into Cush restaurant - a sophisticated little jewel, with six bedrooms offering bed and breakfast. He hasn't changed the original bar, retaining its marine vibe, and has appointed the affable James Walsh as bar manager, who creates cocktails to die for!
Flynn has also transformed the former St Colman's Church of Ireland, on the way into the village, renaming it Sea Church, a community arts venue with a restaurant to the side. It was opening with a concert on the same evening that we arrived to visit Cush, where, it transpired, all of those involved in the church's transformation were being wined and dined by Mr Flynn, before attending the show. That would be enough pressure for any chef - and then to have yours truly turn up out of the blue must have been a real joy…
No gimmicks
If, however, head chef Dan Guerin, who also returned to his native village to take up the post, was at boiling point in the kitchen, it certainly didn't show on the plates. Having been at Garrett Byrne's Michelin-starred Campagne in Kilkenny, Guerin has a top-notch pedigree. His food is sublime; on the nose; classically contemporary without being gimmicky.
A quintet of a la carte starters (€12-€15) included ravioli of aged Ballinrostig cheese with chestnut sauce, crispy onion and smoked Gouda; dill-cured salmon came with fresh horseradish, cucumber, walnut and dill mayo; while warm natural smoked haddock was being served with potato veloute and crispy hen's egg.
I kicked off with a trio of big scallops, pictured below, (€15). Singing of the sea, and sitting in a delicious watercress-centred mussel bisque, they were perfectly seared, and silkily moist on the inside.

Brendan had the early bird menu (two/three courses, €29.50/34.50), kicking off with a crispy 'golf ball' salt-cod fish cake, served in a perfect beurre blanc and drizzled with parsley mayo, which he loved.
Mains (€26-€32) included wild halibut with a seaweed butter sauce; while roast rump of lamb was paired with a Moroccan-inspired lamb shoulder pastilla, with celeriac puree and lamb jus. Roast sirloin of beef was there, too, but I went for a first-rate tranche of grilled wild sea bass (€32), which came with crispy roast cauliflower, ribbons of spring cabbage, and a divine vadouvan and mussel veloute - the Franco-Indian spicing adding a really interesting element to the fish. Meanwhile, Brendan's moist roast breast of chicken, with rich, elegant flavours of chestnut gnocchi, was served with cabbage, sage and Madeira jus.
A luscious threesome of desserts (€9-€11) kept the standard up - vanilla cheesecake with poached rhubarb and a cinnamon doughnut; chocolate fondant; or, my choice, an elegant creme caramel with raisins and a vanilla tuile.
With a bottle of Picpoul de Pinet (€31) and delightful service, overseen by manager Doireann Flynn, our bill came to €125. By the way, they have a courtesy car to bring guests to and from Cush.
I can see why Mr. Flynn wanted his own restaurant down the road...
Cush,
By the Pier, Ballycotton, East Cork.
Tel: (021) 464-6768
cush.ie
lucindaosullivan.com