Restaurant Review - Amy Austin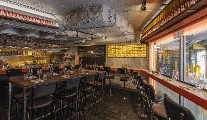 Wednesday 01 April 2020
Amy Austin has finally opened! Who or what is Amy Austin, you might well ask? Well, it's a new wine bar right at the entrance to Drury St Car Park in Dublin 2 which was being hatched for the past year by John Farrell. Despite continuous teaser Instagram postings, it seemed like it would never open, but everything he dreams up causes a frisson of excitement. This is the guy who gave Dublin a really sassy Mexican wave with 777 on South Great George's Street, and before that it was the Butcher's Grill and Dillenger's in Ranelagh. However, it's not all beer and skittles in the restaurant industry, and, with what seems like a bit of an obsession about this particular D2 car park, his last two ventures at this location — SuperMissSue and the super retro subterranean Luna — haven't gone the distance. Hopefully, it'll be third time lucky.
Having had an official by-invitation opening party (as a critic I don't go to openings or closings) there was a plethora of bloggers enthusing of the freebies they'd enjoyed. Indeed, restaurants here and in London are plagued with cheeky requests for freebies in return for their 'unbiased' influence.
Anyway, on its first evening being open to the public, we were almost hand-bagged by just such a pair of these enthusiastic eager beavers, rushing, as if their Insta lives depended on it, to grab stools at the bar or the shelf seating which runs around the small room. Luckily, we nabbed a place at one of the two central high tables.
Amy Austin only seats 30, but there was an instant buzz to the place. The music was thumping, and, unlike some of the new wine bars currently in vogue, you do feel you could go in (and bring your pooch) and just have a glass of wine and a cheese plate (€5-€7) without having to bow down in adoration to some celeb chef's ego.
It has lots of tap wines available by the glass from €6 (150ml pours); vermouth from €5, and sparkling from €12. There's an extensive selection of bottled wine too, of course, from €36 to €140, plus the designated driver or non-drinker is not being treated like a leper, but catered for brilliantly with non-alcoholic drinks including Leitz Eins-Zwei-Zero Riesling, Cabernet Sauvignon and Sparkling Riesling (€26-€31); Heineken 00; Seedlip G&T; San Pellegrino and Aqua Panna bottled waters.
The all-day menu is perfect contemporary wine bar fare. Small individual cheese and charcuteries plates (€5-€70) offer a choice of mortadella, bresaola, Crozier blue, Hegarty's Cheddar, lardo on toast, each being served with charred bread and preserves. Cold plates (€9-€13) include a threesome of Carlingford oysters with kimchi Bloody Mary; burrata, Crown Prince (blue skinned) pumpkin, basil pesto and toasted seeds; Andari organic ham hock terrine, foie gras, soy-pickled Ard Mhacha shitake; and yellow fin tuna crudo with house ponzu, avocado and sesame.
It was a freezing cold night, so it was the hot selection for us. Bayveen kicked off with a skewered trio of big delicious lightly-crumbed fried Dublin Bay prawns (€14), perched head-first into a bowl with Lebanese style garlic toum (very similar to aioli). I had an elegant tranchette of butter-poached halibut (€15) scattered with potted shrimp, wild garlic, and fermented baby samphire.
We followed up with two more tasty small plates — Dexter beef ragu (€12), with a crispy fried polenta rectangle, drenched with parmesan cream; and veal osso buco (€15) with borlotti beans, roasted cauliflower puree, and salsa verde.
To wind up our wine bar evening, Bayveen had a lovely slice of poached pear and frangipane tart (€7) with Chantilly cream, while I had the wonderful Crozier Blue (€6) with the aforementioned charred bread scattered with golden sultanas and olive oil. Heaven.
With a bottle of tap white, a light pleasant Sicilian Domus Vini Grecanico (€30), San Pellegrino bottled water (€4) and bread (€2), our bill should have come to €105 but to our surprise (and not mentioned on their press release), they were applying a 50% discount on food and wine to all customers for the first three days of opening.
Amy Austin
Unit 1
Drury Street Carpark,
Dublin 2.
Tel: (01) 548-6255
amyaustin.ie
lucindaosullivan.com
First Published In The Sunday Independent