Restaurant Review - Vegging out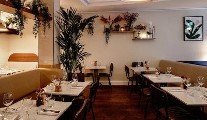 Wednesday 25 March 2020
I wasn't on a 'first date' with my dining companion, Paul, in the new Glas vegetarian and vegan restaurant on Chatham Street, but we found we'd somewhat unwittingly attracted the attention of Mateo Saina, the handsome Croatian maitre d' of the Irish version of the TV show First Dates.
To be honest, we hadn't a clue who he was, but seeing a tall man striding through the empty restaurant, we'd glanced in his direction. Perching on the back of our banquette seating, he said that he was coming over to say hello, as we'd looked at him. Maybe he thought we were fans!
"So who are you?" I asked, bemused. "Mateo," he replied. "One of the owners of the restaurant." Light bulbs were going on in my head, as he then said, somewhat smartly, "What's your name - or have you forgotten it?"
It's never a good idea, no matter how famous you think you are, to assume people know you. I was always taught, to save mutual embarrassment, to introduce oneself when approaching someone you don't know or don't see regularly.
Glas half-full
The website for Glas said, "from small bites to sharing plates", so we'd made the quick call, while in town, to try two or three small plates, only to find, on arrival, that its lunch offering was a set menu with two/three courses at €19/24. The a la carte menu didn't start until 5pm.
We found it a bit of a pain, and a tad puzzling, as most people working and shopping in the city centre just want to have a quick lunch plate, and be gone. However, after a bit of discussion and checking behind the scenes by the very pleasant waitress, we were told we could just have one course.
I asked Mateo about this policy, which he defended strongly, saying they didn't want people maybe just ordering a side of chips. I still don't get it, because people could still try the same thing after 5pm - and maybe it was why there were only two others dining. Agreeing to differ, the handsome Mateo strode off into the sunset, as I enlightened my lunch 'date' Paul as to whose presence he'd been in!
lucindaosullivan.com
First Published In The Sunday Independent