Our Latest Great Place To Eat - Hungry Bear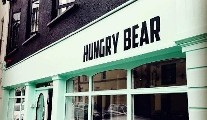 Friday 13 March 2020
Having spent the morning exploring the shops of Gorey, a town which is known as a shopping destination with its very many boutiques, and finding all sorts of treasures that simply couldn't be left on the rails, friend Mary and I were laden with bags and utterly famished when we chanced upon The Hungry Bear with its bright attractive exterior. "We certainly have the appetite", laughed I, as we dumped our bags into the boot of the car and made a beeline for this hip modern looking restaurant.
The interior didn't disappoint with its fantastic classic baronial austere meets an almost steampunk modernism. Think long stark wooden tables, with loose dangling wires overhead, each tipped with an old style Edison bulb, not to mention the bright and colourful artwork, reminiscent of Jackson 'Jack the Dripper ' Pollock.
From a nicely varied lunch menu, smaller dishes included the likes of Kilmore Quay mixed seafood chowder; or crispy chicken wings tossed with Buffalo sauce butter and served with a buttermilk ranch dip. They also do some great sandwiches, which are sure to have the office crowd salivating. Their Kilmore Quay open smoked salmon sandwich comes with brown soda bread, Russian dressing, cucumber and red onion, while a vegan grilled cheese number has vegan mozzarella, tomato, spinach, vegan mayo and red onion jam. They also have a popular 'Bang-Bang' wrap of roast chicken, peanut butter, soy, sesame, baby leaves, cucumber and onion. Favourites like ham & cheese, BLT and chicken & stuffing are all presented and accounted for as well.