Restaurant Review - Liath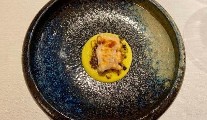 Wednesday 11 March 2020
Liath, which means grey in Irish, is the beautiful love child of the former Michelin-star Heron & Grey restaurant. The parting of the ways of the owners, Andrew Heron and Damien Grey, rocked the Irish foodie scene. With Aussie chef Grey remaining on in the tiny premises in Blackrock Market, people wondered what he would come up with next, and he didn't disappoint.
Starting anew, with a complete renovation, Liath was born into what had become a sleek, sophisticated jewel with a stage-like kitchen, from which Grey, and his inestimable sous, Jozef Radacovsky, perform. I'd visited when it first opened last spring, but having gained a Michelin star for 2020, I was curious to see its progression.
Striking gold
Liath is now the most desired restaurant in the country, but with only 22 seats, it's the devil to get a table. However, we struck gold, with a cancellation for four.
Arriving in Blackrock Market a little early, I was having a quiet wander, when Mr Liath himself bounced down through the market. He'd had a review that day from another critic, awarding him nine out of 10.
"What did you do wrong - it's like [the reality-TV show] Four in a Bed?" I teased. "Did you ruin the breakfast, or was your foie gras not up to scratch?" We both fell around laughing...