Our Latest Great Place To Eat - Crave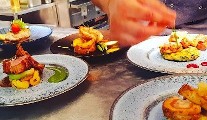 Friday 06 March 2020
The interior at Crave is all about classic elegance but with a plush inviting feel. Set over two floor, the elegant and inviting Crave restaurant in Navan is undoubtedly a Great Place to Eat. Besides from great food and ambience, the service here is excellent.
For the starters, there was plenty to choose from on our visit with fab sounding dishes like deep-fried Brie with cranberry & chilli chutney filled cucumber; duck samosas with a soy and ginger dipping sauce or indeed favourites like calamari with tartare sauce or pork ribs with a homemade sticky marinade and pineapple salsa. I went for their superb 'Healthy Option' prawn dish, with the lemongrass marinated shellfish being chargrilled and served with mix leaves, cherry vine tomato and a coriander & lime dressing. Meanwhile, Bayveen helped herself to an order of fresh and zingy nachos of chilli beef, tomato salsa, mature cheddar, guacamole, jalapeno and sour cream.
As for the mains, a succulent pan-roasted supreme of chicken was on offer with mustard & curry leaf tempered potatoes, grilled asparagus, butternut squash and a honey & thyme jus; along with slow-cooked marinated pork belly with a mix berry puree, glazed baby potatoes, bacon and onion mangetout and a port jus. There was rack of lamb, cooked to your liking, not to mention duck breast served with a plum and winterberry puree, tenderloin broccoli, caramelised onion mash and cranberry sauce. Bayveen opted for a hake dish, which she enjoyed immensely with its accompanying ratatouille, basil pesto, slow roasted cherry vine tomatoes and a side of sweet potato wedges. I, on the other hand, sank my teeth into a fantastic 10oz sirloin steak, chargrilled to perfection and served up with tossed green beans, onion rings, and, my choice, a brandy pepper sauce, along with sides of garlic potatoes and a vegetable medley.
Thoroughly enjoying our meal, the superb flavours and well cooked food, we just had to have desserts too...