Restaurant Review - Rasam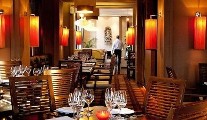 Wednesday 04 March 2020
It's exactly 30 years since Nisheeth Tak arrived in Dublin from his native India. A graduate of the Institute of Hotel Management, Catering & Applied Nutrition in Mumbai, he'd been enticed to Ireland by a London-based restaurateur who had said he was opening a chain of restaurants in Europe.
The job, however, was not as portrayed, and Nisheeth found himself working in a small, family-run place in Dublin, where the owner's brother, who had zero cooking experience, was the chef, while two other brothers, with equally little hospitality experience, were front-of-house.
Accommodation was provided, but it was almost impossible to get paid, and for the first three months, Nisheeth really struggled. A big culture shock for a young man who'd worked in the Taj Mahal Palace in Mumbai, one of the most famous hotels in the world, loved by celebrities, royalty and heads of state, from Jackie Kennedy to the Prince of Wales. It was also the Taj that was targeted by terrorists in 2008, with one of Nisheeth's great friends, executive chef Vijay Banja, being shot dead.