Our Latest Great Place To Eat - Le Perroquet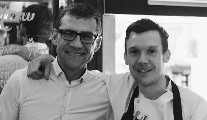 Tuesday 03 March 2020
They've brought a splash of Parisian kitsch to D4, but with chic contemporary food, a la New York's famous Pastis, executed exquisitely in his own style by Fullam. The ground-floor bar, with a half-dozen 'romantic' tables bedecked with flowers and little table lamps, is walk-in only, with reservations upstairs. The menu is 'petit plats' with sides, house-made desserts and fromage. Ricard pastis based aperitifs were €5, so my friend Paul downed a classic Perroquet cocktail of Ricard and mint syrup, while I had my fave tipple of Campari and soda.
Eschewing beef tartare; and goats cheese and fig salad, we kicked off with three small plates from the lower end of the price scale. The first had two wavy feather-shaped rice crackers holding diced mussels, crispy chicken skin crumb and oyster cream, and was a superb blend of sea, sand and samphire.
The second featured an egg yolk, shimeji micro mushrooms, silky leek, and sauteed potato, offset with divine crisp panko-crumbed anchovy sticks, while the third, a more robust choice, was a beltingly rich, succulent, duck croquette with scallion and leaves. All incredible value.
We followed on with gigot d'agneau roti, for Paul, which came with pommes de terre et algues. It was a superb pink leg of lamb, with beetroot, and roast potatoes dusted with seaweed powder and a jus. I loved my choice of delicately-charred monkfish, matched with chunky cuts of celeriac, shavings of sweet charred sweetcorn, the subtlety of tarragon, and a light curry sauce.