Our Latest Great Place To Eat - Murph's Gastro Pub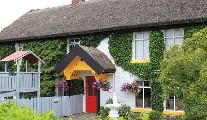 Friday 21 February 2020
Chef/Proprietor Fergus Murphy has a wealth of experience and respect in the foodie community having worked in some of the best kitchens and with some of the best chefs around.
On the road with my pal Rena, we decided to drop into Murph's for a 'quick bite' that soon turned into a full meal. The atmosphere at Murph's is warm and inviting with elements of the classic pub feel meeting some modern design features. Think Farrow & Ball paintwork and polished wooden floors with exposed brick walls and a lovely wood burning stove for those cold winter days.
An ideal venue for families, Murph's offers a great kiddies menu that's sure to please the mob, not to mention a fantastic outdoor children's play area for the kids to enjoy whilst mommy grabs a cocktail or daddy explores the great selection of ale, larger and artisan craft beers.
On our visit, starters included smoked cod goujonettes in a creole batter with pea puree and sauce gribiche; deep fried panko-crumbed brie with a red onion & berry compote, beetroot and a radish salad; as well as a slow-cooked confit duck leg. Moroccan lamb and pork parcels for me were an ideal way to kick off affairs. Crisp and delicate on the outside yet plumptious and flavoursome within, they were simply delicious with their lemon & mango salad. Rena went for some extremely moreish spiced rubbed chicken wings served with celery sticks and a blue cheese dip, happily clearing her plate in quick fashion.
For those of you with a 'meat tooth', the mains here are a carnivores' delight, with a host of succulent meaty dishes from a velvet pork cutlet with O'Doherty's black pudding croquette, Parmesan and herb crust, sun-dried tomatoes, pomme dauphinoise and plum sauce to medallions of beef fillet served with sautéed mushrooms and onion, champ, fried onion and a cognac & peppercorn sauce.