Restaurant Review - 20 Most Romantic Spots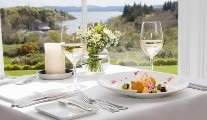 Wednesday 19 February 2020
Everyone has their own idea of that perfect, romantic Valentine's Day setting - that special atmosphere that sets their heart a-flutter and their head spinning with possibilities. It could be a chic eatery, a buzzing hotspot, or the dining room of a Michelin master.
It's all about finding the ambiance that's just right for you whether that's being at one with nature or being pampered at a five-star hotel. So, if you want to know the best place to take your Valentine this year, here are my picks for the 20 Most Romantic Spots in 2020 for wining, dining and popping the question....
DUBLIN
DAX
You can't get much better than Dublin's Best Restaurant 2019, with the double whammy of having Ireland's Best Chef 2019 cook your dinner. Olivier Meisonnave's atmospheric Georgian basement on Upper Pembroke Street, with Graham Neville at the stove, is a true jewel. Sophisticated and elegant, it's a favourite of big hitters who love its understated charm. Its Valentine's five-course menu at €79 includes a glass of the superb Champagne Delamotte.