Restaurant Review - Into The West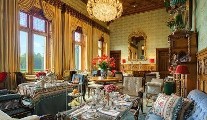 Wednesday 12 February 2020
Spring is in the air, the days are longer and the buds are well and truly popping up. It's a time of year when I always want to hit the road and get out and about around the country. It's also a time when our top hotels, which might not match our budget the rest of the year, offer great-value breaks. The low season is also when hotels like to 'show off their wares' with special events such as gourmet and wine dinners, and these are well worth watching out for. I was lucky enough to be able to take in a couple of these recently.
Medieval knights
As I sat in the magnificent Connaught Room at Ashford Castle in Cong, Co Mayo, listening to Peter Finlayson of the South African Bouchard Finlayson Winery talk about the difficulties and joys of the past 30 years of producing evocative wines such as Hannibal, Missionvale and Crocodile's Lair, I could almost feel the heat and the sea winds of Walker Bay in the Western Cape, south of Cape Town.
Ashford's executive chef, Philippe Farineau, had created a superb dinner to match the wines, starting with Perigord truffle and Parmesan gnocchi; followed by scallop and root chervil; venison and chestnut, pictured below; and rounding off with Blue Buck cheese and one of pastry chef Paula Stakelum's amazing chocolate creations.
Follow in the footsteps of John Wayne, Pierce Brosnan, Rory McIlroy and many other luminaries who've enjoyed the quarters at the resplendent Ashford Castle.
Heading further west, we were in the Coyle family's Arts-and-Crafts-style Renvyle House in Connemara, which is another very special place, for their annual French wine weekend. Set on 150 acres, with your next-door neighbour being the Atlantic Ocean, it's the former home of poet, surgeon and statesman, Oliver St John Gogarty (immortalised as Buck Mulligan in James Joyce's tome Ulysses). It's always a fun weekend, attended by Catherine Gagneux, Honorary French Consul for Connaught.
On the Saturday night, executive chef Tim O'Sullivan created a 'French Connection' banquet dinner to match wines from J&C Kenny, kicking off with pear and black pudding tart with Calvados sauce; followed by the most superb fillet of turbot I've ever had (O'Sullivan is justly known for his seafood) which was served with vanilla, crisp asparagus and petit pois.
Special weekend
At this point, we had enjoyed a Loire Quincy AOP J de Villebois, and a Moillard Macon-Villages Les Eduens Cuvee Prestige Bourgogne 2018. We moved on to stuffed pork fillet with grilled chanterelles and whiskey sauce, matched with Gigondas Clos du Bois de Menge 2016, and finished, French style, with a superb cheese plate, preceding a spectacular "eclair citron et myrtille, cube de gelee a la chamomile, gelee au cassis, sorbet au citron", prepared by a young pastry chef from a catering college south of Paris. A team of these delightful culinary students had flown in for the weekend to work at the event.
It was a special weekend in that we also said farewell to the former chief executive Ronnie Counihan, who's now retired, having been the face of Renvyle for many years.
We finished our little odyssey with a stay at The Galmont Hotel in Galway, where we had dinner in Marina's restaurant overlooking Lough Atalia. Brendan kicked off with a Clonakilty black pudding Scotch egg (€8), which had the de rigueur 'runny' egg yolk, and was tweaked with mustard mayo, piccalilli and rocket leaves. My starter, a sizeable smoked haddock fish cake (€9.50), was equally good, and was served with celeriac remoulade, tarragon and dillisk mayo.
Brendan followed up with excellent fish and chips (€18), served with minted pea puree, tartare sauce and tripled-cooked chips. Being in Galway, we had to have fish, so I ordered a very sizeable and good-value Wild Atlantic Way platter (€24), which had a big cup of mussels, Burren smoked salmon, divine scallops and crab claws, freshwater prawns, garlic butter and seaweed soda bread.
We finished by sharing - and battling each other for the last bit of - a totally extravagant knickerbocker glory (€7), which delivered with lashings of ice-cream, warm caramel, whipped cream, sweet cherries and toasted almonds. With all of this, we enjoyed a delicious bottle of New Zealand Old Coach Road Sauvignon (€34). Service was superb - it's a busy place, in a great location for exploring Galway.
See ashfordcastle.com; renvyle.com; thegalmont.com
First Published In The Sunday Independent