Restaurant Review - allta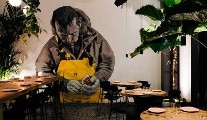 Wednesday 29 January 2020
Can a restaurant be too cool? I contemplated this thought as I sat, feeling a tad uncomfortable, at a tiny corner table in Niall Davidson's new allta wine bar on Dublin's Setanta Place. The name, by the way, in Gaelic, means 'wild, undomesticated', but in fact, it all felt very studied.
I was driving, so had asked for a bottle of still water. Having had serious water-borne illnesses in the past, I only drink unopened bottled water when I'm out and about, and had refused their 'filtered' water (€1.50) presented in uncapped stone bottles. Surprisingly, while they boast of 100 wines on their list, they'd no bottled water, and my only non-alcoholic option, I was told, was a wild berry kombucha (€4.80) - which didn't thrill me as my option with food!
Niall Davidson, a Scottish-born butcher and chef who was raised in Derry, has come to Dublin after a long spell in London. He has a background that includes Jack O'Shea Butcher at Harrods, St John Bread & Wine, and Chiltern Firehouse. He was at the Guinness X Meatopia event a couple of years ago, and subsequently opened Nuala in London's Shoreditch. Sadly, Nuala didn't hang around very long, and Richard Corrigan's hot new Daffodil Mulligan replaced her straightaway.
Part of the Trinity Lodge Hotel, allta is backed by the same Singaporean investors who have Sheen Falls Lodge in Kenmare. Potted palms overlook a long central communal table, with small tables each side, while the vinyl was thumping away, powered by 'vintage Quad amplifiers'.
Also with Davidson on this 'wild' venture is Hugh Higgins, former head chef at John Farrell's late, lamented Luna.
The menu sports 10 small plates (€8.50-€18), or a chef's menu "for the table to share" (€48 per person sharing) with wine pairing (€35 per person sharing). We, however, stuck to two plates each, plus the only dessert.
Oysters served with rhubarb vinegar were there at €3.90 each, making a half-dozen a somewhat saucy €23.40 - a half-dozen oysters in the five-star Shelbourne Hotel costs €16! There was also the house charcuterie with king oyster mushrooms; grilled broccoli with house burrata curds; pollock crudo with cherry blossom vinegar; and chicken scarpinocc - a stuffed pasta dish.
Bayveen and I loved our first two dishes. Two little 'French trimmed' bite-size 'lollipops' of crispy, bone-in skate wing (€8.50) with a seaweed cream were lovely; but the pasta-like slivers of grilled cuttlefish (€15.50) tossed in a gooseberry beurre blanc with hazelnuts had flavours and textures that were truly superb.
Minimal meat
I went meaty with barbecue lamb, pictured left, (€18), which consisted of roughly a tablespoon of pulled lamb with seaweed pappardelle, Cais na Tire cheese and wild marjoram. It fell into the 'pleasant enough' category, but if you were a mighty carnivore, you'd be 'baaing' for more.
Bayveen's spider crab bigoli (€18) was also very short on protein. It was almost an illusion - a bowl-shaped crab shell with 'extra sauce' looked like magic, while a measly 'fork turn' of pasta sat on a plate with a splash of sauce, a whisper of crab meat, and an unbilled 'raw' egg yolk which she removed.
Service was a tad overfamiliar and, not being a touchy-feely person, I wouldn't have fancied the 'matey' arm across my shoulders when orders were being taken at the communal table, or indeed 'friendly pats' beside us. It's just a professional no-no.
Our follow-up choices were two cheeses: Coolea (€6.80) and Young Buck (€9.60); or 'Nitro' milk, smoked honey, sea buckthorn and white chocolate ice cream (€8.90), which we shared. I like savoury desserts, but Bayveen said it was like eating a chemistry experiment.
They've a number of wines by the glass, wines on tap, fizz, classics et al. They also have sake and Scandi beer. Their standard wine pour is 125ml, with 175ml pours upon request. The normal size served in restaurants is 175ml, so your glasses here can tot up quickly.
So, to keep track, unless you want to taste different wines, you'd probably be better to go with a bottle. Bayveen had two wines by the 125ml glass - Guy Allion Touraine AC Haut-Perron 2018 (€9.75) and a Galician Adega Entre os Rios Albarino Komokabras 2017 (€11.50).
Our bill, with service, came to €106.45.
Petite portions, plump prices - on top of which, since my visit, they've increased the table menu to €52 and the wine pairing by a hefty 28pc to €45.
allta
Setanta Place, Dublin 2.
Tel: (01) 617-0988
allta.ie
lucindaosullivan.com
First Published In The Sunday Independent