Restaurant Review - Volpe Nera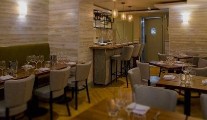 Wednesday 22 January 2020
What makes a small new restaurant on a side road in Dublin's suburbs worth a review, you might ask? Well, what makes Volpe Nera different is that the chef patron and his style of food would, up to recent times, have been more readily found on D2's golden mile, around St Stephen's Green.
In the past couple of years, however, any young aspiring chef patron or restaurateur wanting to go it alone has a snowball's chance in hell of doing it in town, as the big boys grab all the vacant spots before they even come on stream.
While it can be very disheartening for those in the biz, it has huge benefits for those of us who live in the suburbs, because guys who've trained in Michelin-star restaurants, or that level of cuisine, are coming to a vacant unit near you.
Jess D'Arcy of Mamo told me that they'd searched all over Dublin before opening in Howth. Lucky Howth. Philip Yeung brought new Irish food to Harold's Cross, at Craft; and, a mere stone's throw away, Gareth Naughton is serving up fine fare in the new Circa in Terenure. Some of these areas have been culinary deserts for years, as was Blackrock, until Damien Grey achieved a Michelin star in Blackrock Market with Heron & Grey, which is now Liath - not to mention the success of Santosh and Millie Thomas's 3 Leaves.
Perhaps these factors drew Barry Sun Jian to open nearby, in an attractive small two-storey house off Newtownpark Avenue, which was formerly La Plancha. Aged 19, Barry came to Ireland in 2002 to improve his English. He began working in kitchens to supplement his income, and progressed from being a kitchen porter in Dylan McGrath's former Michelin-star Mint in Ranelagh, to being head chef in Etto - winning chef of the year in 2018 - with stops along the way at Restaurant Patrick Guilbaud and L'Ecrivain.
Rave review
In anyone's terms, this is a 'rave review'. The service at Volpe Nera, led by Darren Darcy, ex L'Ecrivain, is exemplary, while the food by Chef Barry is top-notch, elegant cuisine at neighbourhood-nosh prices - even the music is divine.
Bites and Starters (€2.50-€13) included smoked almonds and nocellara olives; guanciale (cured pork cheek); Clarenbridge Brandy Bay gigas (native Irish) oysters; deer carpaccio with artichoke, juniper and pickled pear; and yellow fin tuna with fermented radish and black sesame.
From the bites section, Mary had two crisp, ball-shaped Iberico pork and olive croquettes (€8), a heavenly combination. I kicked off with a sublime threesome of cep-puree-filled Chinese-style half-moon-shaped dumplings (€12), which were served in an intense, umami-flavoured, aged soy broth, and topped with silky trompettes de la mort.
My favourite game
Mains (€20-€27) included cod a la plancha paired with beluga lentils, parsley and lardo; while Italian-style spinach and ricotta malfatti, had Asian influences, with mataki, onion squash, and sage butter. There was also the popular cote de boeuf for two people at €64.
You don't see pheasant, pictured, very often nowadays, so I leapt at the chance. The boned breast (€27) was tender and moist - so often, it's dried to a board - while a rondelle of boudin had leg meat mixed with foie gras. Topped with elegantly delicate game chips, the dish was completed superbly with the sweet and sour elements of pickled quince, blackened endive and a polenta 'chip'.
Mary had a second starter (€11) of ribbons of salt-baked celeriac with truffle stracciatella and hazelnuts, which she enjoyed immensely. We shared a side dish of charred sprout tops (€4.50) with toasted almonds, which was also excellent.
Desserts (€7), and a cheese selection (€11), included warm chocolate mousse with buttermilk ice-cream; malt pannacotta, clementine and pistachio; or, our choice of light and airy French-style Granny Smith sponge with caramelised apple topping and Calvados ice-cream.
There's an excellent wine list, of which we didn't thoroughly avail on this occasion, apart from an easy-to-drink, earthy-soft glass of Geil Pinot Noir 2017 Rheinhessen (€9) with the pheasant, and a large bottle of water (€3.75), bringing our bill with service to €91.10.
Beat a path...

Volpe Nera
22 Newtown Park, Blackrock, Co Dublin.
Tel: (01) 278-8516
volpenera.ie
lucindaosullivan.com
First Published In The Sunday Independent