Restaurant Review - The Lake Room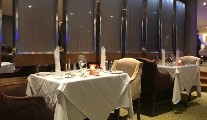 Wednesday 15 January 2020
With the days getting brighter, and the hustle and bustle of seasonal entertaining almost behind us, it's a time for fresh starts, and what I've been noticing is a gentle influx of 'Brexiting' chefs arriving to our shores from the UK, which may help relieve the pressure and shortage here in the hospitality industry.
I was in Killarney a few weeks ago, en route to Dingle, and stayed at the Aghadoe Heights Hotel, which, with its amazing views over the Lakes of Killarney, its calm, elegant, relaxed ethos of hospitality, glorious bedrooms, and wonderful staff, is one of the nicest places in the world to visit.
We had an excellent dinner on that visit, but there was an air of excitement because a new chef, with an interesting pedigree, was coming from London the following week - I'd timed it well - to take up the role of executive chef. Needless to say, I was on the road to Aghadoe again the weekend after he took the helm, hardly giving the chap time to unpack his bags.
Before arriving on our shores, Jacob Jurusik, originally from Poland, had worked in top-notch kitchens in London for a decade or so, spending five years in the five-star Corinthia Hotel - where Tom Kerridge now has an eponymous Bar & Grill - before moving to Berry Brothers & Rudd, where he was a sous chef under a three-star Michelin chef.
He then moved to the famous French restaurant, Le Pont de la Tour, but was soon headhunted by the Gordon Ramsay Group, where he worked first at Petrus, before becoming head chef at Ramsay's Maze Grill.
Happily ensconced once again at a window table in the appropriately named Lake Room, we were brought an amuse bouche of truffle eclairs, gorgeous pop-in-the-mouth, cream-filled balls of choux pastry delight; along with mini bread loaves - truffle and onion; brown soda; and tomato and cheese.
Starters (€8.50-€14.50) included Jerusalem artichoke veloute with artichoke crisps and truffle oil; and crab with tomato and pickled brioche.
Brendan kicked off with deliciously light, soft goat's cheese and 'textures of beetroots', served with blobs of watercress mousse and chunky caramelized walnut (€14.50). I had game pithivier (€14.50), which was excellent, with lightly browned pastry and a fine filling of venison and duck. Sitting on a little bed of spinach in a rich game jus, it was topped with little slices of braised celery and fresh celery leaves. This was followed by a mild gin and tonic sorbet with cucumber and elderflower.
Mains (€28-€34) included beef rump with caramelized onion and crispy rocket; while corn-fed chicken was paired with celeriac, and oyster mushrooms.
A vegetarian dish of potato gnocchi was served with seasonal wild mushrooms and cep puree; while Skeaghanore duck breast was accompanied by butternut squash and blackberries.
I had a chic, fresh presentation of grilled scallops, served with cauliflower textures, and chicken nuggets (€34). The crispy little chicken bites added texture and contrasting taste to the silkiness of the divine molluscs, which melded well with the mini cauliflower florets, Jerusalem artichoke wafers, and blobs of creamy veloute, offset by spring green shoots and leaves. Brendan went with a lighter option from the starter selection, a circular bed of crab and tomato (€14.50), which he absolutely loved. It was topped with wafers and rolled ribbons of radish, carrot, and cucumber, with a mini pickled brioche adding 'soakage' to the dish.
Lush, round Brests
Desserts (€12.50) were a real temptation, and included Paris-Brest, a lush, round choux pastry in the form of a wheel, filled with a praline cream, created in 1910 to commemorate a famous bicycle race. This version had peanut, banana and caramel. However, we decided instead to share a lovely dome of pistachio semifreddo (€12.50) surrounded by sections of candied fig and white chocolate cream.
There's an extensive selection of wines, with plenty that won't frighten the horses. We had a bottle of Jean-Remy Haeffelin Pinot Blanc 2016 (€39) from the Alsace, a favourite region of mine, which brought our bill, with service, to €142, which, considering the five-star surrounds, service, and food, was jolly good value.
One to watch.
The Lake Room
Aghadoe Heights Hotel,
Killarney, Co Kerry
Tel: (064) 663-1766
aghadoeheights.com
lucindaosullivan.com
First Published In The Sunday Independent