Restaurant Review - The Old Bank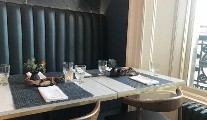 Friday 27 December 2019
'It'll come when it's ready," said a staff member, when I enquired about our starters after 45 minutes in The Old Bank restaurant in Dungarvan. "It's cold. An antipasto just has to be sliced," I muttered, as he flurried away toward the kitchen.
We'd come the circuitous coastal route on our way home from Killarney to Dublin, to visit this new restaurant, which has seen the restoration of a magnificent landmark 19th-Century Palladian-style bank overlooking the harbour, by stud farm owner Michael Ryan, with a fine dining restaurant plus its own bakery to come. But first up is a more casual Italian bistro. The chef is Tom Walsh, who attracted a lot of attention in Dublin a couple of years back.
A tight squeeze
First impressions are all-important, and we certainly weren't feeling the love with the wind whistling around our shins, as we stood in the open-doored portico where, faced by a 'hostess' with a clipboard, we were told to wait (along with others) as she disappeared through the bistro door. I could see himself turning on his heels if this went on too long.
Eventually admitted to the holy of holies, we weren't allowed to sit at either of the two empty tables on the banquette, but instead we were seated at a very small, cramped table in the middle of the floor, virtually adjoining two other people. Frankly, at the prices and pretensions, these tiny mid-floor tables should not exist, being damned uncomfortable, with no privacy, and staff having to squash through. Indeed, a staff member nearly bowled over while trying to squeeze past.
It all felt a bit like they were casting Barry Lyndon, with a fleet of young extras attired in pinstripe trousers and waistcoats, with colourful silk cravats and watch chains, and the flamboyant be-suited manager in matching pink striped shirt, tie and pocket square, but there was a considerable element of awkwardly grouping around, with nobody appearing quite sure what they were supposed to be doing. So now we've got the look, how about the food?
It takes two
With four starters and seven mains, Sunday lunch was €37.50. Not cheap. As we were almost a foursome, our neighbouring diner recommended Moroccan-style spiced slow roast of lamb with apricot and pistachio tabbouleh. But, although it didn't say so on the menu, it and the only other more traditional Sunday dinner of mustard-glazed bacon with Savoy cabbage and roasties, could only be had as sharing plates for two people. I checked this with the staff and, although I pointed out that this wasn't specified on the menu, that was that!
So, back to the starters. Brendan had ordered Antipasto Rustico, pictured below, which took so long to arrive that the meats looked as if they too were weary of waiting - though he did like the cauliflower piccalilli and olives. My soft-shell crab with lemon and saffron butter could've done with a minute or two more in the fryer - biting through the soft stomachy bits isn't very pleasant.
The waiting game
From the mains left to us, and eschewing ricotta-stuffed chicken; Goatsbridge trout; or vegetable fettucini; Brendan had a nice fillet of hake in a shellfish bisque with clams, cockles and tenderstem broccoli. Saltimbocca alla Romana, the Roman stalwart of veal escalope topped with prosciutto, pinned with a sage leaf, and pan-fried in butter, is a quick dish which means to 'jump in the mouth'. Sadly, my five little sliced rolls of 'saltimbocca' weren't jumping anywhere. They tasted pretty awful - 'brown and cardboardy' as though they'd been hanging around in a steamer. Potatoes with a hard 'skin', also seemed to have been waiting in the wings. Eating one little roll of veal, I left the rest and it was removed without question.
Desserts were delightful. Brendan had gelati misti with espresso and limoncello, while I fell on the pretty-as-a-picture zabaglione plum and Marsala.
With a glass of Costadoro Trebbiano Passerina (€7.50), bottled water (€5), and service for a nice young waiter who came late on the scene, speeding up our desserts and coffees, our bill came to €97.50.
We departed feeling hungry and cross, with a long drive home ahead of us.
The Old Bank,
Davitts Quay,
Abbeyside,
Dungarvan.
Tel: (058) 48189
theoldbankdungarvan.ie
lucindaosullivan.com
First Published In The Sunday Independent