Our Latest Great Place To Stay & Eat - Dromquinna Manor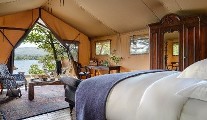 Friday 20 December 2019
This stunning estate, set right by the water's edge, and overlooking Kenmare Bay, is home to Ireland's very best glamping experience. For those of you who are somehow still unaware, glamping is when glamour meets camping, and Dromquinna Manor is glamping at its most superb.
The tents at Dromquinna Manor are custom made by specialists in India to provide you with the ultimate luxury outdoor lodgings. The tents even feature 'double-skin' roofs which absorb the sound of rainfall to ensure a peaceful night's sleep. As for bedding, the tents feature fully sprung 5-star king size Wilderness beds with snooze toppers, goosedown duvets and pillows and crisp white cotton linen.
The tents are located on the estate's west side, close to the toilets, showers, kitchen, laundry, games room, playground, reading room and shop.
Levelled decks and verandas are a great touch, with the tents being placed strategically to take full advantage of the surrounding beauty – perfect for those unforgettable moments.
If you want to push the luxury meter a little bit more, then book a stay at their exclusive Hideaway. Described as 'paradise within paradise' this sizeable tent is tucked away in its own private piece of heaven, with its own private bathroom, and is well stocked with luxury amenities to enhance your stay, from toiletries and bathrobes to board games and books.
As for food and drink, you have to try their delightful Boathouse Bistro, which is a wonderful place to eat at any time of day with great modern bistro fare, an excellent gin menu and breathtaking views out over the water.