Our Latest Great Place To Eat - The Boathouse Bistro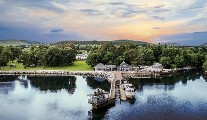 Thursday 19 December 2019
The location alone would be enough to draw in most people, with this fabulous waterside estate feeling like something out of High Society, where Bing Crosby and Grace Kelly sang True Love in a boat on the lake, or Hyannis Port where the Kennedy's spent long leisurely summers.
Dromquinna Manor is known for its unmatchable glamping experiences, with stylish luxury camping being its modus operandi. Plush, stylish and extremely well catered, it's the perfect place to reconnect with the outdoors whilst still enjoying a pampered luxurious holiday, and a big part of the luxury aspect is the excellent food and drink being offered at their Boathouse Bistro.
The interior of the Boathouse, with its clapperboard nautical feel whites and blues, is the perfect accent to the exceptional water views it offers, while you sip a clear cool Riesling or your fave gin cocktail contemplating on how life just doesn't get any better.
The menu has something for everyone, with great seafood being the exclamation point on an already thoroughly tempting menu serving classic favourites in a contemporary style. On our visit, starters included a white bean and chorizo oil soup; an Atlantic seafood chowder; crispy fish tacos; as well as an artisan platter for two of local seafood, cured meats, gubeen sausage and cheeses. Rena kicked things off with some crispy fried calamari with garlic mayo and lemon, which she happily devoured, whilst I enjoyed a delicious offering of sauteed crab claws in chilli and garlic butter.
Mains were a fishophiles dream, with the likes of Atlantic scampi in a panko crumb with lemon, pink sauce, garden salad and fries; beer battered fish & chips; or pan-fried halibut with fresh lemon and chef's vegetables. The carnivore isn't left out in the cold either, with mouth-watering meaty dishes like free range pork belly with Sneem black pudding and a honey and apple jus; a spicy chicken breast in a bun with roast pepper, smoked cheese, salad and fries; not to mention a 10oz Hereford rib-eye steak with vine tomatoes, onion jam, sauteed mushrooms, pepper sauce and fries.