Our Latest Great Place To Eat - Osaka Ramen & Bento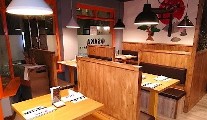 Tuesday 17 December 2019
One of the best ramen spots that I've found on my travels is Osaka Ramen & Bento in Ennis, Co. Clare. With the same team behind it as Kyoto, who have branches in Waterford City and Clonmel, Osaka was always going to be a winner. As with their other restaurants, the interior is a very clean minimalist wood style that makes the room feel bigger without taking away from the atmosphere.
When it comes to food, the menu at Osaka is so expansive, that there is always going to be something for every palette. Their Sushi selection is superb, with all portions being made fresh to order. Their Sushi Nigiri, rice balls with a slice of filling, can be had with salmon, tuna, octopus, eel, prawn, crab and more, while their Norimaki, sushi rolled in seaweed, are filled with your choice of seafood as well – Sashimi, Futomaki and Hosomaki also feature in their sushi menu.
If you fancy a more traditional a la carte experience, their starters include gyoza, deep-fried Japanese dumplings; lightly crisped tempura with chicken, prawns or veg; spring rolls; or a skewered chicken satay.
For the mains, there is a lot to choose from with dishes like a Malay satay stir fry with onion, green pepper, green bean, carrot and spring onion; or Yakitori duck on a bed of stir fried veg featuring in their Wok Stars menu. If curries are more your thing they do a lovely Massaman curry with creamed coconut milk, onion, green been, peanut and crispy shallot; as well as a Firecracker curry that is sure to turn up the heat.