Our Latest Great Place To Eat - Eden Cafe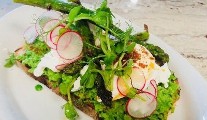 Friday 06 December 2019
Eden is not just any cafe, it is rather special, with a particularly long tradition and association with good food being the sibling of the fabulous and famous Man Friday restaurant in Kinsale, which has been run by the Horgan family for forty years. Daniel Horgan is at the helm here and, apart from the family restaurant, he also worked at the famous Petersham Nurseries in London and at Ottolenghi.
Open throughout the day, its popular breakfast menu, which is served from 9am-12pm, includes the likes of smashed avocado on grilled sourdough with feta, chilli oil, basil oil, and cherry tomatoes; French toast stuffed with banana and mascarpone with a date syrup and caramelised walnuts; as well as a maple glazed bacon sambo on ciabatta bread. For a traditional breakfast they do porridge with West Cork cream, or if you want to spice up your morning, try the grilled chorizo and smashed roasted sweet potatoes on grilled sourdough with crispy kale, feta and a fried egg.
From 12pm, they serve a fantastic assortment of munchable lunchables from little nibbles to great big bites. Their sandwiches, served on Arbutus ciabatta, include a mustard and honey glazed number with pickled cucumber and baby gem lettuce, as well as a chicken, tarragon and mayonnaise offering. They usually have some tasty soups on hand and their much loved Man Friday chowder is a warm and hearty serving with some extremely moreish brown bread on the side.
If you're planning on going the whole hog, then tuck into a Twomey Butchers Angus beef burger served in a brioche bun with Dubliner Cheddar cheese, gem lettuce, roast garlic aioli, rocket and jalapenos, and a side of sweet potato fries, or, If you'd prefer to head out to sea, then try their lightly fried calamari burger, or maybe poached salmon with dill and lemon creme fraiche. They also have a great salad bar.