Our Latest Great Place To Eat - Lignum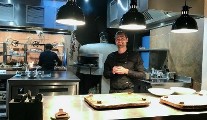 Tuesday 03 December 2019
We had set the sat nav for Bullaun, a small village near Loughrea, Co. Galway, in search of Lignum. "This is lush," I said to my friend, Mary, as the houses got more palatial - we were, it transpired, driving through what is known locally as 'Loughrea 4'.
Lignum is the Latin for wood, over which everything here is cooked, and 27-year-old chef patron Danny Africano has assembled a formidable culinary team, including pastry chef Grainne Mullins, ex Ox in Belfast, and Belgian sous chef Hannes Deryckere.
Danny grew up in the restaurant business; his Italian father and Irish mother had a restaurant at Slateford House some years ago. They now have a very busy hotel in Italy. Having graduated from DIT, Africano worked around the world in places like Australia, Italy and Singapore, but his dream was to set up his own restaurant back in the grounds of Slateford.
We didn't quite know what to expect, but let me say we were absolutely blown away. This is fine dining at its very best - spacious, with meticulous service, but in a lovely relaxed, informal sense.
The building itself is stone-walled barn-style, with a high black ceiling and mighty beams overhead. As we entered, we passed a big glass-fronted air-drying meat room, which felt a bit like a Damien Hirst exhibit, with its lamb legs and as-yet-unbeheaded birds hanging in a somewhat startling fashion. Moving on, we reached the kitchen, where they delight in showing you the impressive wood-fired pits.
The French mixologist had no problem enticing us with a pink Margarita and a Chartreuse cocktail as we took in the menu, which was simply set out with three/five/seven tasting courses with wine pairings available for the five-course and seven-course menus also.
We chose the five-course option, which was preceded by stunning snacks, the first three of which arrived all at once. Raw seasoned shrimp in a hay-smoked bisque hit the nostrils instantly; while the hazelnut and winter chanterelle tarts on a custard, involved cheese they had made locally in Abbeyknockmoy.
The third snack was a mini-wedge of charred cabbage, with parsley hollandaise and chive flowers. Next came an individual snack of slowly charred porcini mushrooms on fermented black garlic with potato, shitake and nori tuile, finished off with grated Italian truffles, and mushroom dashi.