Our Latest Great Place To Eat - Solas Tapas Bar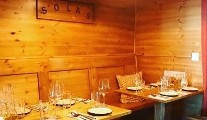 Friday 29 November 2019
Made in 1969, the movie Ryan's Daughter made Dingle famous. Fifty years later, Dingle is a place for all seasons. A town of diverse craft shops, galleries, bars and restaurants, with, in recent years, the fame and drawing power of its beloved aquatic mascot, Fungie, being matched by the town's thriving foodie scene. The annual Dingle Food Festival draws artisan food producers from all over the country.
We were dining in Nicky and Ann Foley's Solas Tapas & Wine bar, which has been reeling in the locals and tourists alike for its great buzz and food. We quickly discovered the beat on the street was right - there are tapas bars and tapas bars, and then there's Solas Tapas!
We weren't the only ones hanging out for Foley's food, with three top chefs - Michelin-starred Derry Clarke, Jess Murphy of Kai in Galway, and the one and only Neven Maguire - all in attendance on our visit. Among other high-end venues, Foley, originally from Waterford, was six years with Richard Corrigan's Bentley's in London.
When we say tapas, we think of traditional Spanish plates, and of course there are those influences, but Foley's small plates are delightfully local yet eclectic.
Cahillane's of Killorglin braised pork cheek was served with harissa potatoes and steamed Swiss chard; while sirloin of grass-fed beef came with wild mushrooms and spinach; and Tom B's line-caught pollock ceviche was accompanied by west Kerry grapes, lemon and parsley.
Passing on cured meat boards, we stuck to sharing small plates, wanting everything we saw. Perfect popcorn squid was served with mouthwatering peppered west Kerry honey. Spiced grilled Atlantic prawns with braised chickpeas were finger-licking fabulous; while two substantial dillisk and wild mushroom croquettes were crispy, tasty, instant tummy-pleasers.
I wasn't quite sure about the octopus carpaccio, but the rondelles of Spain's favourite nobbly cephalopod, served in lemon and lime with a shellfish aioli, turned out to be one of the stars of the show.