Restaurant Review - Mamo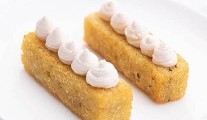 Wednesday 27 November 2019
We've lots of talented chefs plying their trade in Ireland now, but there comes a day when every chef wants to be waving the pots and pans in their own kitchen. Killian Durkin is one such chap, who has more than served his time in top establishments, including Chapter One and Thornton's, and has now taken that leap of faith.
In fact, it's a bit of a dream team in a dream location, as Durkin has just opened the new Mamo restaurant on the seafront in Howth, with his wife, Jess D'Arcy, ex Etto. The couple met while working in the iconic Mermaid Cafe of yore some years ago, and had been working in the city centre.
They had been searching for suitable premises for quite some time, looking "even as far as Kilkenny", before finding their chic little premises in Howth, and upping sticks from D8 to live in the lovely north-Dublin fishing village.
Apart from having an affluent coterie of residents, Howth is hugely popular with visitors from all over the world, who make the day trip along the coast via the Dart to climb up to Howth Summit, walk the pier, visit the market, and hopefully spend a few bob in the restaurants.
The drums had been beating for quite a while before Mamo (which means grandmother in Irish) ever opened. It's very small, and very much in demand, so we'd taken the precaution of securing our seats for Sunday lunch, which they serve from 12.30pm right through until 7pm.
They describe Mamo modestly as a neighbourhood restaurant creating a contemporary European dining experience in a relaxed and friendly setting. In that, they've more than succeeded, but, having spotted some well-known faces on our visit, I think it's more likely a hot destination where locals will be battling for a seat.
The death of a diet
So, snugly and smugly seated at a table in the middle of the floor, as multifarious hipsters and the great unbooked were politely turned away, we concentrated on the menu. Snacks and Starters (€4-€14) included the top-notch Cinco Jotas acorn-fed Iberian ham; soused herring with candied lemon and lentils; mackerel tartare, pickled cucumber and orange; and cockles Portuguese.
How is it that I can avoid bread all week, but two slices of crisp sourdough, paired with a big yellow quenelle of vadouvan-spiced butter, made me go weak at the knees? Maybe it was because my friend Mary and I had driven from Galway, having abandoned the worst breakfast I've seen in years - tinned mandarin sections and a big puff of microwaved powdery 'scrambled' eggs - in an otherwise pleasant four-star hotel.
To start, came the most gorgeous ribbons of salt-baked celeriac (€10) which were intertwined with pickled girolles, orange, and shreds of red onion. Mamo's nod to fish & chips, the 'cod chip' (€6), pictured above, consisted of three smart and tasty confit potato fingers fried in clarified butter and rosemary; each one topped with piped taramasalata. I'd cross Dublin Bay for them alone.
Brill brill
Mary followed up with beautifully seared brill (€26), which was moist and juicy on the inside, and served with cauliflower florets, capers and brown shrimp - a combination I love, but I wasn't eating it; she nabbed it first. However, I did equally well, having instead a mouth-wateringly tender rectangle of slow-cooked shoulder of Comeragh Mountain lamb (€24) which was served with waves of squash puree, baby leeks, and pied de mouton ('sheep's foot') mushrooms.
Desserts (€6/€7) included dark chocolate with blueberries and meringue; or Howth honey tart, topped with blackberries, which we shared. There was also Mossfield mature cheese with poached pear, giving cheeseophiles the option of cheese at a reasonable price.
The wine list covers sherries and bubbles, and interesting wines for all pockets. So, with two glasses of a crisp, dry Sicilian Borga Selene Cattarato/ Inzolia blend (€7 each) for Mary, water (€4.75), and two espressos (€3 each), our bill, with service, came to €106.25.
I wonder if, like Michael's of Mount Merrion, which expanded with Little Mike's, we mightn't in time have Mamo and Little Mamo? But, either way, going to granny's has certainly taken on a new meaning in Howth.
Mamo,
Harbour House, Harbour Road, Howth, Co Dublin.
Tel: (01) 839-7096
mamorestaurant.ie
lucindaosullivan.com
First Published In The Sunday Independent