Restaurant Review - The Bell Tower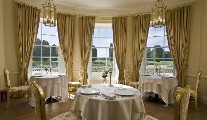 Wednesday 20 November 2019
With a history that goes back to Strongbow, Walter Raleigh, and the Knights Templar, and having been a religious institution for many years, the plush Castlemartyr Resort - which is situated amid 220 acres of lush parkland in east Cork, and includes the ruins of an 800-year-old castle and an 18-hole golf links - opened its doors to the general public in 2008.
It was 2008, and we were all still carried away by the Celtic Tiger, but, later that year, Lehman Brothers went bust in the US, and money dried up everywhere. Castlemartyr went into Nama, and was sold.
After that, it became more accessible, but a few things never changed - the place is still stunning; the lands are still stunning - and head chef Kevin Burke has been there, through thick and thin, delivering stunning food. Burke had returned from London in 2009 to take up the role, having worked at the likes of the Michelin-starred Foliage at the Mandarin Oriental hotel in Knightsbridge.
We popped down for a night recently, and found the place hopping. We were staying in the main house, but there are also 103 guest rooms in the new wing and 47 luxury self-catering lodges.
The Knight's Bar, which was the chapel back in its ecclesiastical days, is spectacular, with glorious 18th-Century stucco ceilings by the Franchini Brothers. The last time we'd visited, we ate at Franchini's, the hotel's casual Italian, which was excellent.
So, this time we checked out its elegant fine-dining restaurant, The Bell Tower, where, overlooking the formal gardens, we had the pleasure of seeing the estate's carriage and horses being trotted around.
Burke's fab fare
Starters (€11.95-€14.05) included Roscoff onion tart with saffron potatoes, St Tola goat's curd, and pumpkin seeds; while tempura monkfish was paired with heirloom tomatoes and cumin with a curry mayonnaise.
Brendan kicked off with a pressed terrine of rabbit, ham hock and foie gras, served with toasted brioche (€13). Set on a pear puree, with truffled gribiche sauce, the terrine was top-notch, with each element classically clear and distinct.
My choice of Union Hall smoked salmon, pictured, (€14.05) was fabulous. Rich swathes of silky fish looked wonderful on a black slate rectangle, and these were interspersed with wafers of beetroot and radish, micro-herbs, beetroot puree and a colcannon potato cake.
Mains (€17.60-€32.75) featured loin of rabbit with Parma ham, salt baked beetroot, caper & raisin puree, port and raisin jus; while beef fillet came with smoked celeriac puree, rainbow carrots, creamed parsley, oxtail beignet and a red wine jus.
Brendan had a wonderful breast of Skeaghanore duck (€30.65) which was served perfectly pink with parsnip puree, cabbage, blackberry and port jus. I loved my lightly chargrilled firm fillets of black sole (€28.60) which were served on a ragout of ratte potatos, leek & mussels, and lemon oil.
The desserts (€9.50) all sounded exquisite, from the relatively light apple bavarois with tarragon custard and cream-cheese sorbet; to an indulgent chocolate Marquise with white and dark chocolate crumb, roasted hazelnuts, milk chocolate mousse and barley sorbet.
We finished by sharing a superb Castlemartyr honey and camomile parfait with honeycomb, camomile sponge and milk puree.
With a bottle of house Simone Joseph Chardonnay 2018 (€35) and service, our dinner bill came to a reasonable €143.80.
By the way, your pooch is very welcome at Castlemartyr, where they have a designated corridor of dog-friendly rooms, each with its own adjacent little walled garden.
The Bell Tower
Castlemartyr Resort, East Cork.
Tel: (021) 421-9000
castlemartyrresort.ie
lucindaosullivan.com
First Published In The Sunday Independent