Restaurant Review - Spitalfields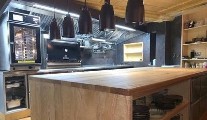 Wednesday 13 November 2019
I wonder how Biddy Mulligan, the 'pride of the Coombe', would take to the gentrification of her home turf, with posh, yuppie-style cafes, pubs and restaurants springing up faster than you can say Jack Rabbit.
Legit, Two Pups and Coffee District compete on coffee. Drop Dead Twice Taproom or Lucky's provide alternatives to old-men pubs, and the rooftop bar of the Aloft Hotel has views of the city. The Fumbally does great business on the fringe of the area, while Lovin Catering is a newer kid on the block.
It's an area known as The Liberties - the very heart of Dublin, going back to ancient times, within earshot of the bells of St Patrick's and Christ Church Cathedrals, and it has a very tight-knit community with a tremendous history.
Taking centre stage
Well, the latest yuppie arrival is Spitalfields, set in the former Shanahan's pub, where, for many a year, locals enjoyed football matches on the TV over pints. Gone now are the tellys, as the original interiors have been polished and shined, and gastropub grub ("What's that, Biddy?") has taken centre stage.
Stephen McAllister and his wife, Andrea Hussey, who also have the Pig's Ear on Dublin's Nassau Street, are behind the dramatic scene change, taking the new name, not from the Hawksmoor Spitalfields gastropub in London, as has been alluded to in some blogging quarters, but from Spitalfields Street, which runs behind it, and Andrea's family-owned Spittle's, a restaurant and grocery of yore in Thurles, Co Tipperary.
Stephen is a guy who's used to performing in public, and he's also used to keeping an inscrutable po-face as one of the chefs on TV's The Restaurant when the unfortunate celeb gets few stars, as happened in September to poor Una Healy, and previously to Jackie Lavin when I was the guest judge.
So he's going to be very much on stage here at a large, free-standing stylish island pass at the end of the ground-floor bar, which is kitted out for bar or ledge dining. Upstairs is a more standard-style restaurant area.
Small plates, big flavours
A lot of menus I'm seeing around now have some "nibbles, snacks, small plates or starters" before you get to the mains, but it can be hard to gauge the size or quality of any of these enticements. You pays your money and you takes your chances!
Spitalfields snacks (€4-€7) covered olives; vegetable crisps; oysters (individually), while starters were up there, being €12-€16. ("How much did you say, Biddy? In a pub? Are they mad?"). Mains (€18-€26) included Iberico pork schnitzel, smoked eel (which is having a revival), fennel and gremolata; slip sole, girolles, nut butter; or a cock-a-leekie pie for two (€42).
We decided to stick to the smaller plates, which had a tribute to The Old Dublin, a once famous Nordic/Russian-style restaurant on Francis Street, by way of gravadlax with bread and butter pickles. We kicked off by sharing a mouthful each of devilled egg (€6), which is also making a comeback right now.
Next up, were delicious little fillets of yellow-tail tuna (€14), sitting pretty in burnt orange and soy, topped with wafers of radish. Our third dish was a hollowed-out half-avocado (€13), with crabmeat filled in on the bottom, levelled off with mashed avocado, and topped with a blob of Goatsbridge trout caviar. ("Feck off Biddy, I don't believe you. That'd be €26 for a whole avocado! I could've bought a gold stall in Moore Street at that rate.")
Delicious, but, a bit rich alright, with nary a bit of toast or anything. Poulard clams (€14) which were served in a broth infused with spicy nduja, were tasty, but again, a tad petite.
Wine & cheese
We finished with a slice of divine coffee and orange creme caramel (€7); and two slices of cheese (€5 each), Aged Comte and St Tola Ash - Cashel Blue was available also - which were served with muscat grapes and biscuits.
They've a good wine list with an entry price of €26.95, by the bottle, and a half-dozen each of red and white. So, with three glasses of Zero G Gruner Vetliner 2017 (€8.95 each), and bottled water (€4.95), our bill, with service, was €105.
It was very good, Biddy, but pricey, and you can bring your old vinyls for manager, Declan Maxwell, to do disc jockey on the record player. He loves the aul' music…
Spitalfields
25 The Coombe, Dublin 8
Tel: (01) 454-6921
spitalfields.ie
lucindaosullivan.com
First Published In The Sunday Independent