Restaurant Review - Bastion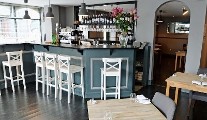 Wednesday 06 November 2019
In a time before we became a foodie nation, Kinsale was way ahead of the posse. A beautiful nautical town, it has always attracted a cosmopolitan crowd, and not just the Spanish Armada.
Peter Barry - of whom there is a statue in the town in recognition of his tireless tourism work - arrived in Kinsale in the early 1960s and made The Spaniard Pub famous, serving English favourites like pickled eggs, or Cornish pasties.
Barry then opened Man Friday, which is as good as ever under the direction of chef Daniel Horgan. More restaurateurs came. There was the Swedish Bacchus, over a supermarket, serving 'planked' steaks and dill mustard sauce; The Bistro, owned by the glamorous Heidi Roche from Hamburg, who married Stanley Roche of the Roches Stores family; and Gerry Galvin's Vintage restaurant, where I first had sweetbread quenelles. Gerry later wrote a mystery novel, Killer A La Carte - the killer in question being a restaurant critic!
At the recent 43rd Kinsale Gourmet Festival, all of this came flooding back, as I sat in Bastion, the current incumbent of what was Heidi's Bistro. I'd been here during many incarnations, but what makes Paul and Helen McDonald's tenure different is that they've achieved Kinsale's first Michelin star.
Made for Michelin
Bastion is classic Michelin French-fine-dining territory, with exquisitely prepared elegant food, with soft, muted flavours, lots of crumbles, foams, oils, and purees. The walls are now grey, the lighting subdued, there's music, and everyone is focused on the food.
The smartly attired all-female floor staff, led by Helen, never stopped whizzing around the room, checking tables. They reminded Brendan of the Nippys of London's Lyons' Tea Houses of yore (owned by Nigella Lawson's family), famous for their black-and-white uniforms and great service. "They're like Nippys, and they move faster than the Irish rugby team," according to him.
Butter mutter
Tasting menus were the order of the day - you could choose between an eight-course menu at €77.50, which we had; or a five-course menu at €57.50. I had a sparkling Pisco (€8.75) - Prosecco, elderflower and orange bitters - as we took in the menus, and enjoyed an amuse bouche of chicken-skin slivers dotted with chicken liver parfait, Madeira jelly and walnut puree.
Next came salt-baked beetroot, which was light and fresh, with ricotta and hazelnut dressing. Guinness sourdough and brioche arrived, served with sweet treacle and caramelised onion butters.
I'm partial to fancy butters, but I heard an American chap whining to his girlfriend that he loved his butter and they'd ruined it. You can't please everyone. After that, he bleated on about one of the courses having a whole carrot - a beautifully cooked carrot, indeed, served with a crumble and Velvet Cloud yoghurt, pictured below left.
Next up was a cube of roasted cod fillet, which was deliciously seared, and sitting in a Jerusalem artichoke puree, topped with Iberico ham and crisp apple matchsticks.
The meat of the matter
Moving into the heavier level, a superb rabbit and foie gras roulade was classically paired with golden raisins, Sauternes and violet mustard, half encircled with a fine crisp pain d'epice. This was followed by a silky pearl of the sea, a poached oyster, which was napped with a potato-and-leek foam. I wasn't wild about a tranche of beef fillet, which, while it was perfectly cooked rare, had a couple of stringy connective bits that turned me off it. However, the pickled girolles with candied hazelnuts, shallot, and bay oil were to die for.
A pre-dessert of strawberry, celery and labneh was in a 'granny's china' cup, while the actual dessert, the French classic pain perdu - French toast - consisted of a caramelised rectangle, accompanied by mouthwatering Frangelico-soaked medjool dates, salted-caramel ice cream and mascarpone.
We passed on a cheese option at €10, as we did with the wine pairing (€48.50 each). Instead, we had three glasses of Portuguese Esporao Reserva Branco (€11.25 each); a glass of Chateau Tour du Pas St Georges Saint-Emilion (€11.60) with the beef, and a glass of German Pinot Blanc Bender Weissburgunder Mosel QBA (€10). With service, and water (€4.50), our bill came to €245.96.
We stayed in the superb Old Bank House in the heart of the town, which has one of the best breakfast selections, plus its own in-house bakery.
Bastion
Main Street,
Kinsale, Co Cork.
Tel: (021) 470-9696
bastionkinsale.com
lucindaosullivan.com
First Published In The Sunday Independent