Our Latest Great Place To Eat - Sakura Japanese Restaurant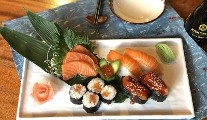 Friday 01 November 2019
Japanese food has really never been hotter, with more and more people everyday exploring this sophisticated and healthy cuisine.
Relaxed but atmospheric, Sakura has minamilist bench-style seating, brought to life by the colourful Japanese murals which adorn the walls. The menu at Sakura offers a bountiful array of treats from the east, with some superb sushi and sashimi to be had. Think sushi nigiri of salmon, seabass, prawn, or maybe octopus or eel. Each selection is served as two bite-size pieces, so try a few and see what you like. For bigger bites, their Ura Maki menu has great offerings such ebi (prawn) tempura & masago; smoked salmon & cream cheese; or spicy tuna, and, from their Norimaki specials, their soft shell crab 'spider' roll is delicious, as the ebi asparagus tempura with wasabi mayo and masago.
If you prefer a more traditional starters and mains approach to dining, then kick things off with some of the bite-sized sushi and then check out the wok fried noodle & ramen dishes, which can be made extra spicy on request. Good ramen is a point of pride with Japanese restaurants, with painstaking laborious preparation being put into the preparation of the stock, and when its done right, it's absolutely delicious. At Sakura, your ramen dish can be had with chicken, beef or seafood, but I recommend that you try their Sakura Ramen, a hearty offering of chicken, king prawns, roast pork and crabstick with egg, fried tofu, wakame and oriental veg in a chicken and pork soup garnished with menma, spring onion, beansprout, edamame beans, shimeji mushroom and fried onion. My mouth's watering just thinking about it.
A selection of teriyaki teppanyaki dishes are also available with your choice of meat being served on a hot plate with stir-fried veg, plus there are some fantastic dishes to try out amongst the chef's specials...