Our Latest Great Place To Stay & Eat - Maddens Bridge Bar & Restaurant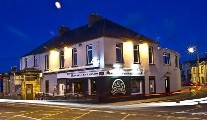 Friday 25 October 2019
Maddens Bridge Bar, restaurant & guesthouse is set on the Main Street in Bundoran, directly opposite the town's famous surf peak break, which means great big crashing and breaking waves to gaze out upon, and, for surfers, including my son and his friends, the ideal conditions for a perfect weekend of 'hanging ten'.
And, where better than Maddens to spend that weekend? With nine finely appointed, attractive guest rooms, not to mention cracking food from the restaurant and bar, plus a jovial welcoming atmosphere throughout, it's the ideal base for discovering the best of Bundoran.
All guestrooms at Maddens are en-suite with TV and tea & coffee facilities, with some of the rooms offering breathtaking incomparable views of the Atlantic, but it is recommended that you book well in advance to ensure a sea view.
Once you've settled in, make your way down to the warm country style bar, complete with a plethora of bric-a-brac to investigate, and have a drink whilst taking in some lively music from one of their regular trad music performers. There is always great craic at Maddens Bar with locals and out of towners all merging together to enjoy the fun and frolics.
A visit to Madden's wouldn't be complete without trying out their top-notch gastro grub, which features some great seafood like grilled Atlantic seabass or baked cod, along with a selection of award winning fresh oysters being served with fresh chilli salsa vinaigrette. If fish isn't for you, don't worry, they to tasty gourmet burgers, chicken curries and a spicy vegetarian taco too, so there's something here for everyone.