Our Latest Great Place To Stay & Eat - Avalon House Hotel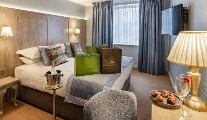 Friday 11 October 2019
From the moment you arrive you know you've picked a winner. Throughout the hotel, the atmosphere is warm, inviting and undeniably luxurious. But, it's the attention to detail that has gone into transforming Avalon into an elegant and chic building, with its classic features not being lost amid their modern amenities, that's particularly impressive. You immediately think, 'I want that wallpaper in my house' or 'isn't it a brilliant idea to create a coat rack from wooden shoe lasts mounted on a board?'
There are 30 spacious, air-conditioned bedrooms at the Avalon; beautifully decorated and sure to meet the most discerning expectations. Plush and stylish, all of the bedrooms here include a flat screen tv, free WiFi, tea and coffee facilities, hairdryer, iron and ironing board as well as a desk and chair.
Once you've settled in, head down to their Lark's Bar, grab a seat by the cosy wood-burning stove, take in all the wonderful old pictures and bric a brac, and check out their extensive drinks menu filled with a wide variety of gins, whiskeys, beers, wine and cocktails, or, if you're feeling peckish, order the beer battered fish and chips or some hot & sour chicken wings, and tuck in.
The bar food here is ace, but the real star of the show is their more formal restaurant, Lil's. Located on the first floor, Lil's is the stage on which Head Chef Cathal O'Dowd delights diners with his fab flavoursome fare with a focus on Irish seasonal cuisine.